Are you in search of the finest Thanksgiving marketing ideas for this year? Look no further! 
Thanksgiving is a time for gratitude and togetherness, but for savvy marketers, it's also an opportunity to connect with customers in unique and memorable ways, providing a prime opportunity to boost sales. During this time, brands and marketers typically gear up to craft top-notch Thanksgiving marketing campaigns for the weekend. 
Given the intense competition that often accompanies this season, we've compiled a collection of Thanksgiving marketing ideas to assist you in capitalizing on this significant sales period. These strategies can help you not only clear out your inventory but also generate substantial profits. 
But why is Thanksgiving such a boon for retailers, you may wonder? 
Thanksgiving, observed in the US on the fourth Thursday in November, ranks among the largest sales events of the year in the United States. It's currently estimated that approximately 158.3 million people will shop online this Thanksgiving weekend.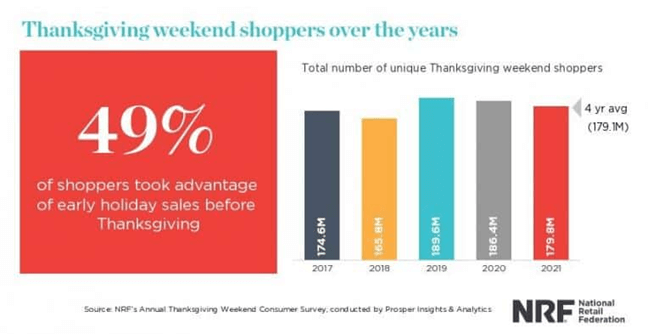 Thanksgiving Marketing Ideas for Small Businesses
Last year, the most common gifts bought over the Thanksgiving weekend included clothing and accessories (51%), toys (32%), gift cards (28%), movies/music/video games/books (27%), and electronics (24%). 
So, if you're selling any of these gifts, then you've got a reason to start preparing for the big weekend right away. 
In this blog, we'll present you with captivating Thanksgiving marketing ideas that will make your brand stand out during this season of abundance. 
1. Send Thanksgiving-related email
Email newsletters are one of the most effective Thanksgiving marketing ideas that can help you stay in touch with your customers and inform them about your sale. Although they primarily facilitate one-way communication, they play a crucial role in keeping your customers engaged and can lead to fruitful results, especially when they decide to shop during the Thanksgiving sale. 
To craft the perfect newsletter, it's essential to go beyond festive templates and greetings. The first step is to create a compelling subject line that entices users to open your email, and you can achieve this by utilizing headline analyzer tools available in the market. This ensures your message reaches your audience effectively. 
Here are some of the best Thanksgiving email template sites to get you started on your Thanksgiving email campaigns.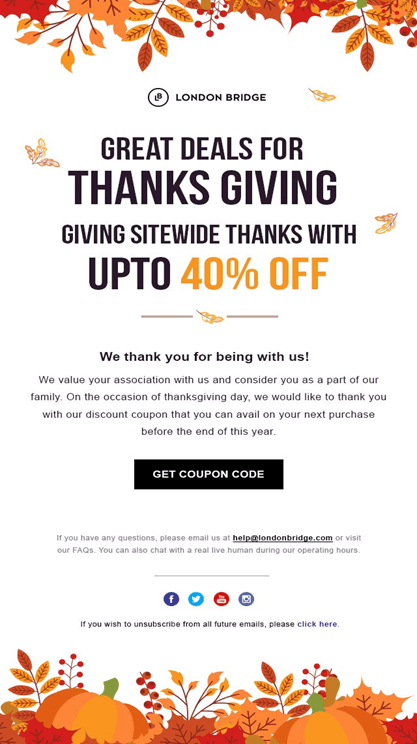 2. Create a holiday-themed livestream
Don't limit your Thanksgiving marketing ideas to discounts and shopping events. They can also be used to attract traffic to your website. Consider creating holiday-themed videos or hosting a live stream event to generate interest in your store. 
For instance, if you sell kitchen supplies and other housewares, you could host a cooking video where you teach customers how to create a special Thanksgiving dish using items from your shop. Alternatively, you could provide tips on holiday decorations or offer fashion advice for festive dinners. These engaging content ideas can help draw more visitors to your online store. 
3. Run a Thanksgiving contest
This Thanksgiving, consider organizing a contest on your social media platforms or website. Hosting a contest with an appealing prize is an excellent way to interact with your customers or followers. 
Ensure that the contest aligns with your brand. If you specialize in kitchen appliances, you could run a contest where participants share their finest Thanksgiving recipes, or beautifully set tables on social media, using a unique hashtag. Be sure to offer a prize that's highly desirable! 
Encourage participation by using a branded hashtag and popular hashtags like #ThanksgivingTable to enhance visibility.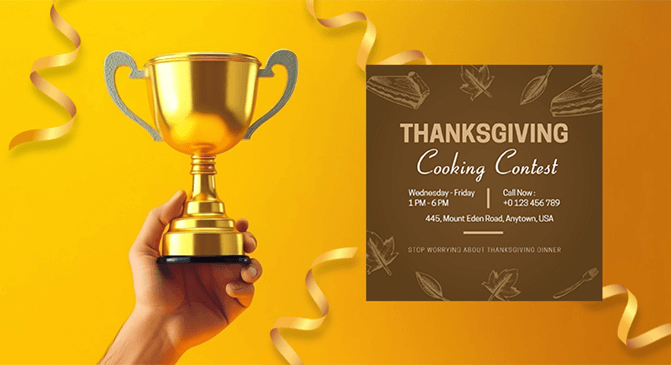 4. Social Media Campaign
As Thanksgiving weekend presents a prime retail opportunity, it's crucial to make your mark in the sea of advertisements consumers encounter. Differentiate your brand with Thanksgiving-themed social media ads. 
Platforms like Facebook and Instagram provide auction pricing tied to impression counts. You can allocate your budget based on your intended audience size and define specific target demographics. Develop several test ads and closely monitor your analytics to identify the most effective messaging. 
5. Host an event
To set your small business apart from larger retailers in your vicinity, consider hosting a Thanksgiving event. Such gatherings not only attract visitors but also serve as an expression of gratitude to your most devoted patrons. You might organize a Thanksgiving-themed shopping party featuring hourly giveaways and exclusive discounts. 
It's essential to effectively promote your event. Moreover, if your inventory includes items that complement the holiday, use these products to craft captivating holiday displays, motivating shoppers to make these purchases. 
6. Create Thanksgiving-related content
Crafting Thanksgiving-themed content stands as a fantastic marketing idea to enhance your Thanksgiving promotions. You can draw new visitors to your website and social media platforms while conveying your consideration for your audience during the holiday season.  
Diversify your social media approach with a range of Thanksgiving marketing ideas. Engage your audience with creative tactics such as recipe swaps, spotlighting your employees, sharing Thanksgiving decorating inspirations, and offering teasers about your upcoming promotions.
Maintain a dynamic mix of content by teasing exclusive Thanksgiving weekend deals to spark excitement and post-holiday suggestions and tips to foster a strong, lasting connection with your customers.
7. Reward loyalty
Incorporating a loyalty program into your Thanksgiving marketing strategy is an effective way to foster customer retention. This approach encourages holiday shoppers to transform into loyal, repeat customers by providing them with bonus rewards and incentives. 
Offer an enticing sign-up bonus for customers who join your loyalty program. This could include an initial discount on their Thanksgiving purchase or a gift card for future shopping. For example, a clothing retailer might offer new loyalty program members a 20% discount on their Thanksgiving purchases. 
8. Use BNPL
 Buy Now, Pay Later (BNPL) may not appear as a typical sale because customers ultimately pay the full product price. However, the distinctive feature is that they don't have to make the full payment upfront, creating a similar effect to a sale where your business receives the full item price. 
In essence, BNPL services have gained significant popularity, with 60% of consumers having used them at least once, and 51% within the past year. These services are particularly favored by millennials and Gen Z shoppers. 
Even though the customer doesn't provide the complete payment at the point of purchase, your business still receives the full product value, with the BNPL service provider deducting their fee. Subsequently, the service provider takes care of collecting the customer's payments, while your role primarily involves making BNPL available to your customers. This arrangement simplifies the purchasing process and attracts a wider range of consumers. 
9. Thanksgiving giveaway
As Thanksgiving takes precedence over other budget-intensive holidays like Christmas and New Year, cost-effectiveness becomes paramount. To spread the joy and keep your guests content, consider offering complimentary dinners or in-store freebies. 
A practical approach is to launch a social media contest akin to Abbey Credit Union's example. The entry criteria are straightforward – participants simply need to like your page and share what they're thankful for during the season, with the chance to win a $300 dinner. This strategy not only brightens someone's day but also expands your social media following.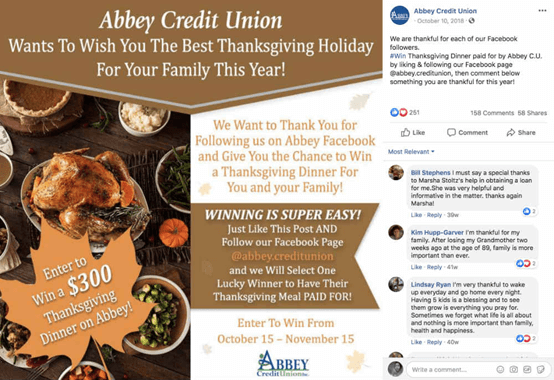 It's important to note that Thanksgiving marketing initiatives need not be confined to digital platforms alone. In a physical store, you can organize Thanksgiving contests by introducing engaging activities like trivia puzzles or raffle draws. Prizes such as drawstring backpacks, mugs, keychains, or reusable bags can be given away, adding an exciting element to your in-store experience. 
10. Plan a toy donation drive
You can add a deeply meaningful aspect to your Thanksgiving promotions by organizing a toy drive. Toy drives serve as a way for parents and caregivers who are facing financial difficulties to provide holiday gifts to their children. Here's how you can set up one: 
Contact a Local Charity: Collaborating with a local charity will help determine the logistics of when and how the collected toys will be distributed. Look for family services organizations in your community, get in touch with school administrators, or reach out to local fire and police departments. 
Establish a Timeframe: The more time you allocate for collecting donations, the greater your contribution will be. Consider initiating your toy drive approximately two weeks before Thanksgiving and let it run through the Thanksgiving holiday weekend. 
Reward Donors: Incentivize people to donate by offering rewards. This not only encourages their participation but also provides you with an opportunity to introduce them to your small business or promote your services or products. The rewards can vary, from offering a 15% discount on select merchandise to providing a complimentary service. 
Conclusion
Thanksgiving serves as both a time for expressing gratitude and a fantastic chance for businesses to enhance their online visibility and sales. These Thanksgiving marketing ideas enable you to craft compelling content, leverage the potential of social media, and outperform your competitors in the holiday season.
Always keep in mind that a thriving Thanksgiving marketing campaign hinges on creativity, audience engagement, and sincere appreciation for your customers. 
Prepare to make this Thanksgiving season truly memorable for your business! Additionally, explore our related articles for further insights and inspiration to fuel your holiday marketing endeavors.