The spooky season has descended upon us! But don't let the hustle and bustle of work keep you from seizing the opportunity to expand your reach. These Halloween marketing ideas could be the secret sauce to elevate your business!
Total Halloween spending is expected to reach a record $12.2 billion, exceeding last year's record of $10.6 billion, according to the National Retail Federation's annual survey conducted by Prosper Insights & Analytics. A record number of people (73%) will participate in Halloween-related activities this year, up from 69% in 2022.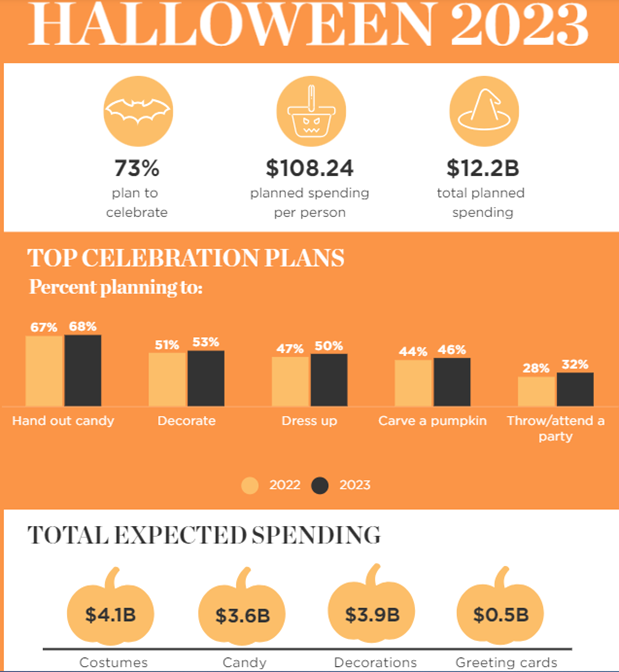 Creative Halloween Marketing Ideas for Small Businesses
Unleash your creativity this Halloween season with a collection of inspiring marketing campaign ideas that will infuse a dose of spooky fun into your promotional efforts. Dive into the realm of Halloween-inspired marketing concepts, designed to boost engagement, drive lead generation, and draw an influx of customers to your local business.
1. Offer Halloween-themed products
A fantastic way to stir up excitement during Halloween is by introducing a time-limited offer on themed products. This approach works wonders if you are involved in the creation or manufacturing of your products. You can craft exclusive items adorned with Halloween-inspired visuals, designs, or language.
This Halloween marketing campaign is also highly effective if your inventory includes items such as masks, hats, caps, and other Halloween party essentials.
For those businesses that don't typically offer Halloween-related products, there are still plenty of creative options:
Consider expanding your product range temporarily to include Halloween-themed items.
Create packaging materials featuring a spooky Halloween aesthetic.
Gyms can organize Halloween-inspired fitness sessions to engage clients.
Bakeries can entice customers with delectable treats adorned with Halloween-themed decorations.
Fashion retailers can offer a range of Halloween costumes to cater to the season's festivities.
2. Add Halloween elements to your website
Another effective way to generate enthusiasm for your brand is by giving your online presence a spooktacular makeover. Consider adorning your homepage with festive designs, featuring elements like pumpkins, spider webs, and playful monsters, all inspired by Halloween. You can also incorporate spooky fonts, colors, and themes that can easily be reverted once the Halloween season has passed.
No need to start from scratch either. Many websites and platforms offer free Halloween templates and designs that you can readily apply to your social media profiles and website. A complete website overhaul is not recommended since it can be time-consuming, and you'll need to reverse the design after Halloween. Instead, you can focus on specific sections of your website, such as:
Introducing pop-up banners adorned with spooky designs.
Utilizing sliders featuring captivating Halloween images.
Enhancing your website's header bar with thematic design elements.
3. Offer spooky deals and discounts
You don't need a special reason to offer discounts, but Halloween provides an excellent opportunity to do so! Your Halloween sale can showcase seasonal items, help clear out inventory for upcoming arrivals, or offer specific discounts to entice customers to make a purchase.
Additionally, with 40% of people beginning their holiday shopping before Halloween, this is a chance to target early bird shoppers who are eager to check items off their holiday lists. Consider putting together a holiday gift guide and launching an early-bird special on your products or services to inspire ideas and drive purchases.
Here are some other creative Halloween sale ideas to consider:
Organize a Halloween sidewalk sale to attract more visitors to your business and boost foot traffic.
Create enticing bundles of your Halloween-themed products or services to provide customers with added value.
Reward your newsletter subscribers or social media followers with exclusive early access to your Halloween sale, allowing you to expand your audience.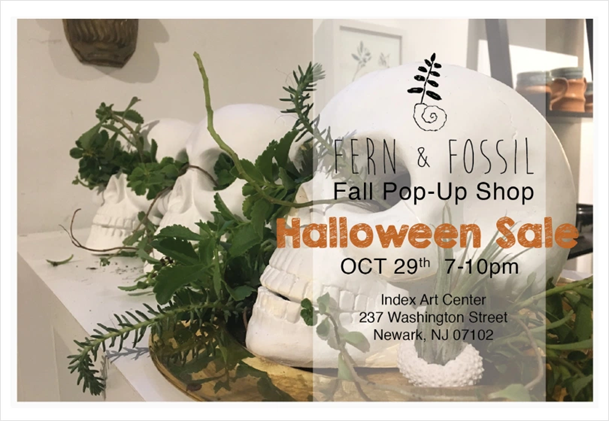 4. Run a themed email newsletter
Your email list is a valuable asset for promoting holiday-related specials to your current customer base. Craft Halloween-themed email campaigns targeting your subscribers, alerting them to the impending Halloween season and the need to take advantage of your offers promptly. 
To build anticipation for your primary Halloween promotions, consider implementing an email series that engages customers from September through Halloween. This series should include a mix of promotional emails showcasing your deals and captivating content, such as costume and decoration suggestions.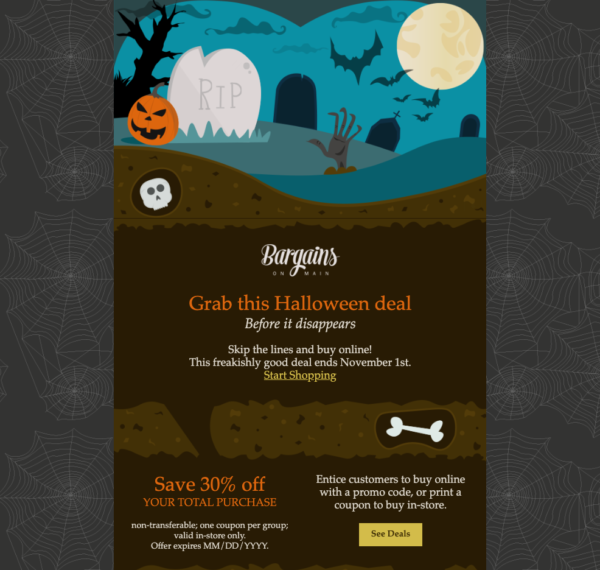 5. Create Halloween-themed social media content
Leverage your social media presence to create engaging Halloween-themed content, accompanied by relevant hashtags to increase your discoverability. Showcase how your products can be used for party decorations or provide last-minute costume ideas utilizing your merchandise.
To make your Halloween promotions on social media successful, remember to capture plenty of photos and share them before, during, and after your event or sale.
Share customer and employee photos (with permission) on your Facebook page, and encourage others to do the same.
Utilize a variety of hashtags to enhance your exposure and improve your results.
Even if your products aren't directly related to Halloween, sharing fun facts and trivia about the holiday can pique interest in your shop and bolster brand recognition.
For instance, take inspiration from Anastasia Beverly Hills, a prominent makeup retailer with a substantial Instagram following. The brand frequently collaborates with beauty influencers who craft Halloween-inspired looks. Their captions include links to the products used in creating each look.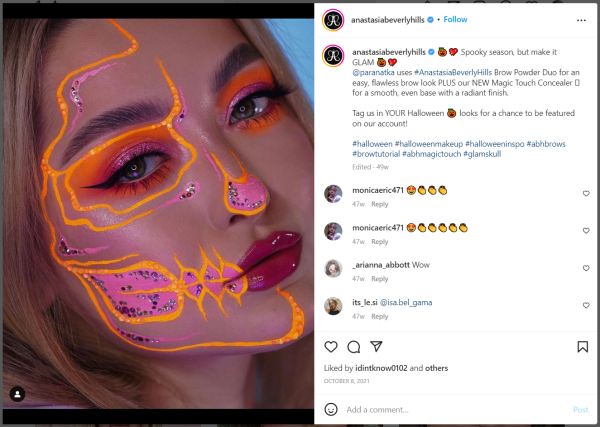 6. Invest in influencer marketing
Collaborating with influencers can significantly amplify your Halloween marketing efforts. These individuals have a dedicated and engaged following, which means their endorsement can sway their audience's purchasing decisions. Here's how to leverage influencers effectively:
Look for influencers whose niche aligns with your Halloween products or services. For example, if you sell costumes, partner with fashion or lifestyle influencers who can showcase your offerings in a stylish way.
Contact potential influencers with a clear and appealing proposal. Explain what you'd like them to promote, whether it's a specific product, a Halloween-themed event, or a discount code.
Trust influencers to create content that resonates with their followers.
Influencers can produce various types of content, from Instagram posts and stories to YouTube videos and TikToks.
7. Host a Halloween contest or giveaway
Hosting a Halloween contest or giveaway adds an element of excitement and interaction to your social media strategy. To make this Halloween-themed giveaway a hit, consider crafting a prize package that aligns with your brand and captures your audience's interest.
Create a Halloween-themed prize bundle that reflects your brand's identity and caters to your ideal customers. This package might incorporate a range of Halloween-related items or feature enticing rewards such as a gift card or exclusive coupons tailored to your brand's products or services.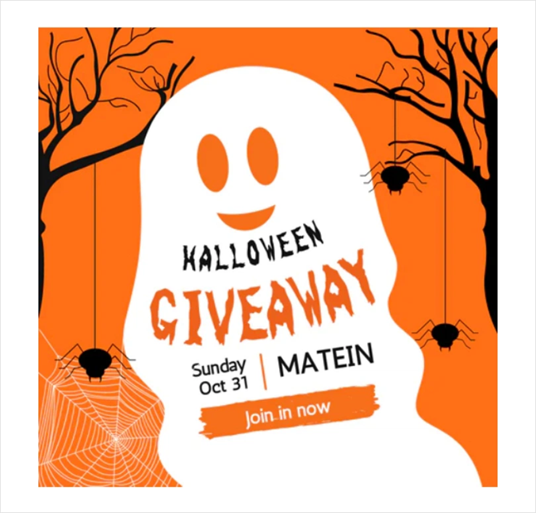 8. Join in on community events
Throughout October, your local community is likely hosting a variety of events such as autumn fairs, festivals, and farmers' markets. Consider setting up a booth or tent at these gatherings, complete with enticing coupons, festive decorations, Halloween treats, and, if possible, your furry friend to attract passersby.
Make sure to leverage your social media platforms to announce your presence at these events, and sweeten the deal by offering a complimentary item to the first ten visitors to your booth. Engaging in community events not only enhances your local reputation but also deepens your understanding of your audience. Gathering more insights about your customers as individuals will naturally improve the effectiveness of your marketing efforts.
9. Host a costume party
Consider hosting an exciting event right at your business location to bring the local community together and create a fun shopping experience. Invite attendees to join in the Halloween spirit by dressing up in costumes and offer enticing snacks, drinks, and a lively soundtrack to keep the atmosphere festive.
To make this fun, you can ask customers to upload pictures of them in their Halloween costumes using a special hashtag. This will make perfect content for your social media pages and get more people involved in the challenge. Also, you can promise to give the customer a mouthwatering discount or gifts with the best or most liked Halloween costume.
10. Post user-generated content
Leveraging user-generated content (UGC) is a fantastic strategy to enhance your brand's visibility and connect with new customers during the Halloween season. User-generated content refers to content generated by your customers about your brand, such as when a customer shares a product they purchased from you on social media, and you repost it on your page. This type of content is a potent tool for building social proof for your business.
Here's how you can harness the power of UGC for your Halloween marketing:
Encourage Visual and Halloween-Themed Content: Invite your customers to share visual content or Halloween-related posts with you. Encourage them to get creative and capture moments related to your brand or products in a Halloween context.
Engage Your Audience with Questions: Pose Halloween-themed questions to your customers. For instance, you could ask them to share their favourite childhood Halloween memory or a spooky tale that still sends shivers down their spine. Then, reshare their responses on your social media platforms.
11. Run Halloween-themed ads
While you're rolling out your fall specials and spooky discounts, consider harnessing the power of Facebook ads or Google ads to enhance your brand visibility.
Develop a series of themed advertisements that demonstrate how your products can be utilized for Halloween gifts, parties, and costumes, and direct them toward users within your geographical area.
Craft ads tailored to different target audiences. Once you've pinpointed the most effective messages for your local audience, you can leverage this valuable insight to design your holiday advertising campaigns. This strategic approach will help you maximize your brand's exposure and connect with potential customers during the Halloween season.
Conclusion
Halloween presents small businesses with a fantastic opportunity to elevate their sales and draw in fresh customers. Through the execution of imaginative Halloween promotions and marketing initiatives, you can amplify your brand's visibility and foster interactive connections with your audience in a spirited and engaging manner.
Whether it's through tailor-made Halloween pop-ups, exclusive limited-edition merchandise, or inventive user-generated content endeavors, the potential avenues for creativity are boundless. The pivotal aspect lies in harnessing the essence of Halloween to craft a memorable and captivating experience that resonates with your customers.