With Black Friday looming on the horizon, there's immense potential for small businesses. Yet, to guarantee a smooth Black Friday experience for your small enterprise, it's crucial to commence your planning now! We've got you covered with a treasure trove of Black Friday marketing ideas tailored for small businesses. 
What is Black Friday?
Black Friday falls on the Friday following the American Thanksgiving holiday. It has gained popularity for its significant price reductions in both eCommerce and physical retail stores, leading to a surge in consumer spending. 
The term 'Black Friday' originated in Philadelphia during the 1950s when police officers used it to describe the massive, disruptive crowds that swarmed the city the day after Thanksgiving. Suburban shoppers and tourists flocked to the city in preparation for the famous Army-Navy football game. 
Subsequently, retailers embraced Black Friday as an essential time for holiday shopping, helping them become profitable ("back in the black") before the fiscal year's end. Being "in the black" signifies earning a profit rather than operating at a loss, indicated by "being in the red." 
Today, Black Friday has expanded from physical stores to include online sales, with eCommerce businesses actively participating in the holiday sales extravaganza. Moreover, it has extended its duration, evolving from a single day into a weekend of sales encompassing Black Friday and Cyber Monday.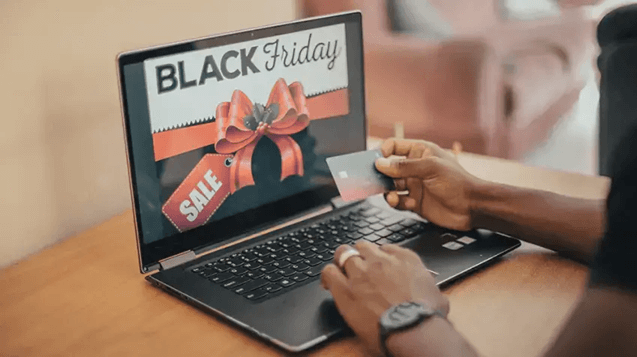 Here are the most important online sales statistics to consider: 
25% of American shoppers shop online because they think they'll find better Black Friday deals. –

DriveResearch

 

In 2022, 87.2 million U.S. consumers shopped online, roughly equal to 2021. –

National Retail Federation

 
Black Friday Marketing Ideas
If you're seeking fantastic Black Friday marketing ideas to supercharge your promotions, you're in the perfect spot! In this blog post, we're here to unveil some of the most remarkable marketing tips for Black Friday.  
Whether you're gearing up for a massive sale or aiming to outshine your competition, dive right in and discover these valuable strategies. 
1) Create an irresistible offer
To create an irresistible offer for Black Friday, consider more than just heavy discounts – focus on providing maximum value for customers. Discounting your products may not always be the best strategy, especially if it erodes profit margins. Instead, explore options like bundling related products, offering value-added items, or even an early bird giveaway.  
Product bundles can entice customers by letting them receive more for their money, while value-added offers enhance your standard pricing without cutting into profits. Furthermore, early bird incentives can create excitement and word-of-mouth marketing. 
2) Create a sense of urgency
To ignite customer enthusiasm for your sale items, craft compelling copy that conveys a sense of immediacy. Cultivating a feeling of urgency or scarcity in your Black Friday marketing prompts customers to spring into action. 
One pivotal reason for instilling a sense of immediacy is its attention-grabbing power. In a crowded inbox, for instance, an email that stands out and evokes a sense of urgency is more likely to grab attention than one that doesn't. 
You can motivate customers to act promptly rather than delay. By presenting limited-time discounts or exclusive access to sale items, customers will sense a compelling need to seize your Black Friday offers before they vanish. 
3) Engage with Social Media Posts
In today's digital era, the influence of social media in marketing campaigns, particularly for events like Black Friday, is incredibly significant. Platforms like Instagram, Facebook, and Twitter offer more than just a means to announce sales. They provide a stage to demonstrate products in action, whether through brief videos or customer endorsements.  
Furthermore, incorporating interactive content like polls or quizzes asking for input on which products should be discounted can stimulate more profound engagement with customers. Leveraging influencers or sharing user-generated content can further extend your reach and add an authentic touch to your promotions.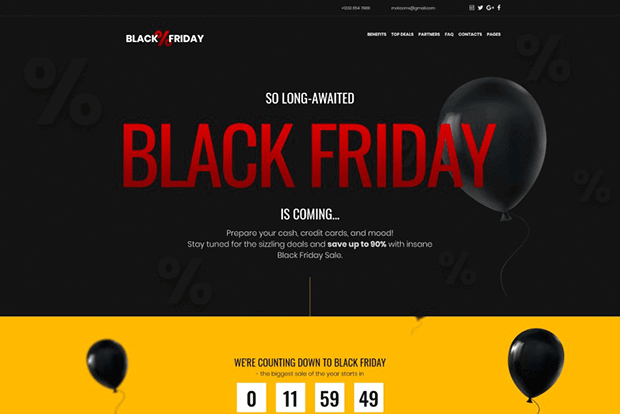 4) Email Marketing Campaign
Establishing an email marketing campaign is a powerful strategy to boost your return on investment (ROI), which consistently averages $36 for each dollar invested. This ROI surpasses other marketing channels. People appreciate receiving daily discounts and promotions in their email inboxes.  
To maximize the impact for Black Friday, plan your email campaign a few weeks ahead, delivering exclusive offers and deals to your valued subscribers.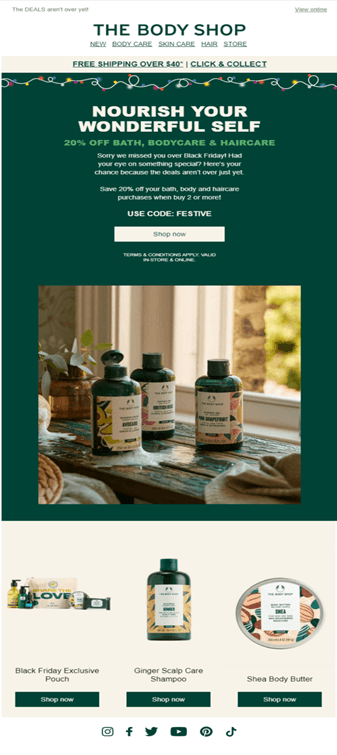 5) Massive Discounts for Black Friday
The tried-and-true Black Friday marketing tactic is to offer significant price reductions – and be generous about it! 
Start at 50% off and slash prices all the way to 70% below the original price. Don't hesitate to lower your prices. This is what your customers anticipate from Black Friday promotions. 
Discounting allows you to clear out old inventory, attract more foot traffic, acquire new customers, or boost sales. In the case of digital products like courses, where there's no production cost, you can even offer discounts of up to 90% without harming your profit margins! 
6) Plan Promotions That Allow Upselling
Design promotions that facilitate upselling opportunities for your products and features. 
Effective upselling tactics include: 
Offering a complimentary gift with a specific spending threshold.

 

Granting free shipping for purchases above a designated amount.

 

Providing a "Buy 4, Get 1 Free" deal.

 

Crafting bundle offers like "5 for $25," making each item just $6.75.

 
7) Gift Card Promotions
Black Friday, the traditional kickoff to the holiday season, provides an excellent opportunity to showcase your products or services as ideal gifts. 
Gift cards stand out as a brilliant Black Friday marketing strategy. They allow shoppers to gift experiences, such as a soothing massage, or enable their loved ones to choose their most coveted products. 
Furthermore, gift cards serve as a valuable tool to balance out seasonal fluctuations in sales, as demonstrated by Nashville Pedal Tavern. 
For this Black Friday, consider offering a $100 gift card at a discounted rate of just $75 while retaining its full redeemable value. This approach not only generates immediate revenue but also allows you to deliver the service or products at a later date. 
8) Utilize A Countdown Clock
Countdown timers provide an effortless method to maintain your promotion at the forefront of your customers' thoughts. You have the flexibility to configure the timer to count down to the commencement or conclusion of your sale, or both!  
Numerous email service providers offer integrated countdown timers, or you can opt for a standalone tool to create the timer and embed the code into your emails.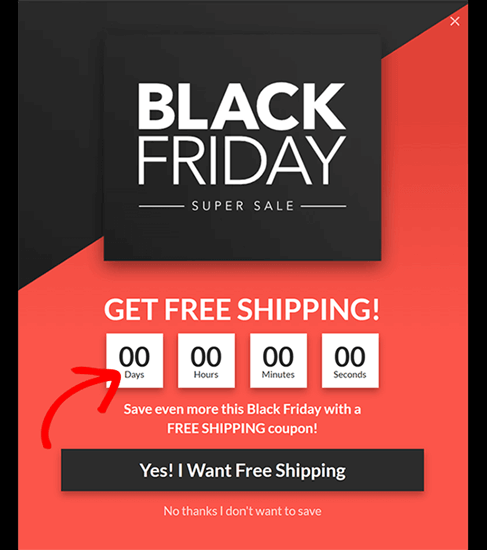 9) Use hashtags to reach new audiences
Harness the potential of social media hashtags to expand your reach during Black Friday. Employing relevant hashtags allows you to connect with individuals actively seeking Black Friday deals, making it easier for them to discover your products and services.  
For instance, if you're a retailer, leveraging hashtags like #blackfridayshopping or #blackfridaydeals can help you engage with bargain-hunting consumers. 
10) Referral Rewards
Leverage the power of referral marketing for your brand, especially in promoting your Black Friday deals. 
Distribute referral codes to your email subscribers, tempting them with gift cards or enhanced discounts as rewards. Not only can these referrals attract fresh customers, but they also demonstrate appreciation for your loyal client base. 
11) Give a free gift with purchase
Reward your customers with a delightful surprise – a free gift with their purchase.
This gesture not only encourages them to take action but also nurtures a sense of goodwill that can lead to repeated patronage. 
However, it's important to choose your gift thoughtfully, ensuring it aligns with your customers' preferences. Tailoring your freebies to your customer base is key to making this strategy truly effective. 
12) Offer Free Shipping
Embrace the power of Free Shipping, especially in the realm of e-commerce, where shipping expenses can dissuade potential buyers. This Black Friday, remove that barrier by introducing free shipping as a game-changing offer. 
Free shipping not only delivers financial relief to customers but also streamlines their decision-making process. As consumers explore deals across various platforms, this enticing bonus can significantly tip the scales in your favour.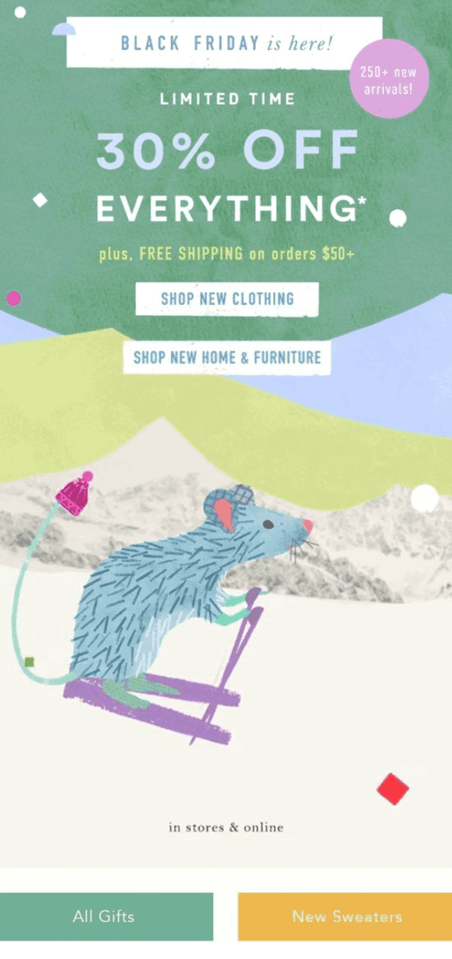 Conclusion
Beyond being a mere shopping day, Black Friday presents a golden opportunity to establish a genuine connection with your audience and boost your sales. Implementing the right Black Friday marketing ideas sets your brand apart in a crowded marketplace, guaranteeing that you not only attract but also engage and retain customers effectively.