The importance of online reputation management software for small businesses is simple math: you build a good image from day one and you make money; you don't put any effort into it and very little to zero revenue comes in. 
According to a survey of US consumers, 90% said that positive reviews influenced their purchasing decisions, while 86% said that negative reviews influenced how they chose businesses. 
With the help of online reputation management software for small businesses, the work can be made easier and more efficient. When you have limited resources for full-fledged public relations management, reputation management software for small businesses is the ideal solution. 
How to Choose an Online Reputation Management Software?
Online reputation management software can be a lifesaver for businesses looking to protect their brand. It can help you maintain a positive image online.  
There are numerous business management tools that are accessible, how can you determine which one is the best fit for you? Here are a few things to remember: 
Assess your objectives.

Do you wish to boost your internet visibility? Or are you attempting to fix the harm that has already occurred? Depending on your goals, you should seek distinct characteristics in a tool.

 

Consider your financial situation.

You must invest some money to gain access to powerful tools that can assist you in reaching your objectives.

 

Consider your level of competence.

If you're unfamiliar with the brand's online reputation management, seek a solution that's simple to use and comprehend. If you have some experience, however, you can get away with a more advanced tool.

 

Look at the reviews and testimonials

. Check out what other companies have said about the online reputation management services you're thinking about using. Read both favourable and bad reviews to get a balanced perspective.

 
1
0
Online Reputation Management Software for 2023
1
. Trustpilot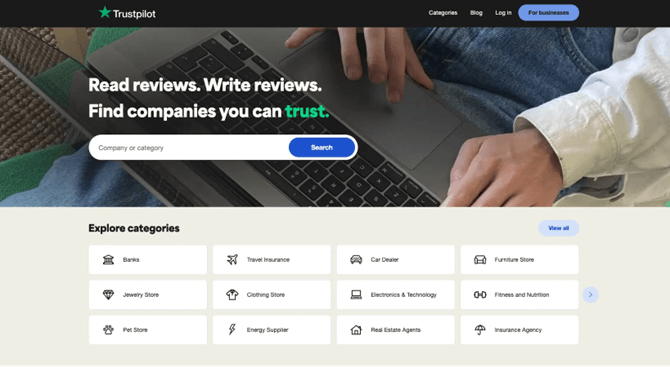 Trustpilot is a customer review management platform that assists online businesses in developing a trusted brand while collecting customer reviews and feedback. The solution assists businesses in showcasing their reputation, improving customer experience, expanding their online presence, and increasing overall conversions and sales. 
It works in two steps: the client shares their experience, and brands improve the experience, making it a win-win situation for reputation management. 
Features: 
Helps to automate the customer review collection process, monitor customer feedback to resolve issues for unsatisfied customers, and respond to customers publicly.

 

Create genuine social proof by leveraging Trustpilot reviews and ratings.

 

Helps drive more traffic from paid and organic search results, which results in increased CTR and conversions on paid ads.

 

Provides integrations with Zendesk, Magento, Salesforce, Zapier, Prestashop, Mailchimp, and more.

 
Pricing: 
Trustpilot's pricing starts at $225 per month per domain, allowing you to collect up to 500 verified customer reviews per month. You can choose their Scale plan, which starts at $900 per month per domain, to receive unlimited verified customer reviews each month. The Enterprise Plan is the best option if you need a plan that meets your needs. 
2. Yotpo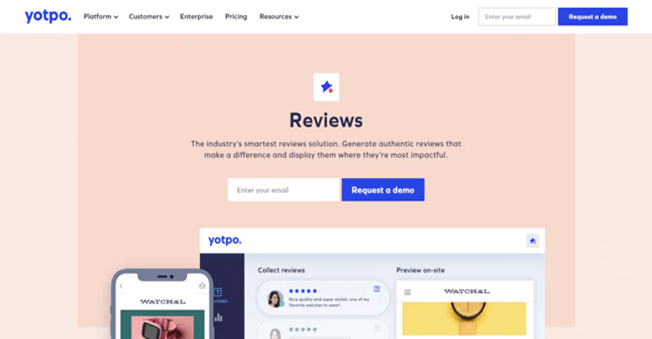 Yotpo can help you convert one-time customers into repeat customers. Customers can now easily provide feedback and turn every purchase into a review thanks to data-driven tools. 
Contact customers where they are and request reviews via frictionless in-mail technology or SMS. To inspire and convert customers, address high-converting topics and collect higher-quality reviews. 
To sell more, use this platform to showcase reviews, display compelling content, highlight users' highest-intent moments, and much more on the website. 
Features: 
With Yotpo you can amplify your reach by leveraging official partnerships with Google to boost the discovery of your business and increase traffic through search and social.

 

Use the retail syndication feature to boost review coverage by seamless integration from the brand's D2C to any retailer site.

 

This platform offers an integrated experience by providing full control over how your business aggregates, displays, and markets its feedback.

 

With the analytics dashboard, you not only get a detailed performance analysis describing how UGC is impacting your bottom line but also help you understand your consumers better.

 
Pricing: 
After exhausting your free trial (upto 50 monthly orders) you can top-up your plans starting from $15/month and going up to $119/month. You can also contact them directly from their website to get detailed information about their flexible premium and enterprise plans. 
3. GatherUp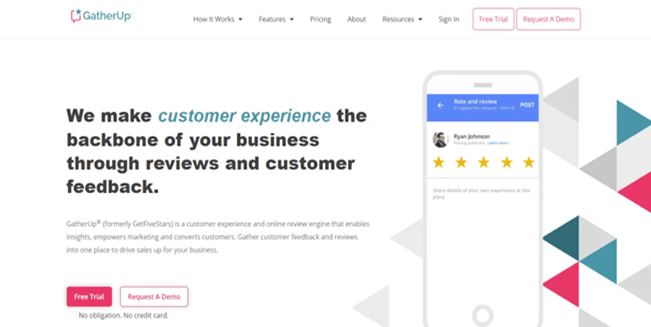 GatherUp takes customer reviews and turns them into the foundation of a business, allowing users to make better decisions. GatherUp, as the name implies, collects all reviews in one place to boost sales. 
To send out automated review requests and reminders, use beautifully curated branded templates. You can shape the requests to your specifications using the personalization and customization options. 
GatherUp also monitors review sites and sends you daily updates and email notifications whenever a new review arrives, allowing you to respond in real time. 
Features: 
GatherUp provides a robust platform to fuel your online reputation with more than 12 ways to engage your audience and collect their reviews.

 

With this platform you won't miss even a single review with its monitoring and listening skills across more than 30 review sites as it gets them into one place.

 

Their review widget, conversion pop-up, and other features help businesses market their reviews and ratings.

 

They offer a suite of reports to allow you to see your data in whichever way you want. These reports are visually appealing and engaging. You can sort, filter, and compare to benchmark and track your online reputation.

 
Pricing: 
They offer a 14-day free trial option post which you can opt for their $99/month per location plan or get 5 locations for $300/month. They also offer more than 11 locations for $495/month. 
4. Mention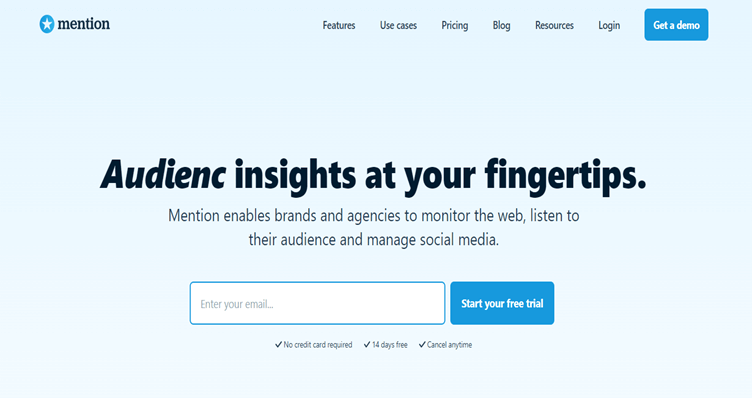 Mention is a media monitoring and social listening app that helps businesses see what's said about them online. With more than 750,000 users all over the world, the tool helps any business or brand see every important conversation in real time. Clients include agencies, universities, charitable organizations, and banks. 
Features: 
Customizable, robust, and automated mention data reports

 

Build graphs using metrics that matter to you

 

Monitor more than 70 top review sites, plus social media and overall online mentions

 

Custom mention alerts flag mentions with specific keywords

 

Filter mentions by site, country, and language

 

Scheduling and publishing  tools for social media marketing

 

Competitive analys

i

s

 
Pricing: 
The pricing for the product includes a free trial option for 14 days and a range of subscription plans starting from $41 to $179 per month. 
5. BirdEye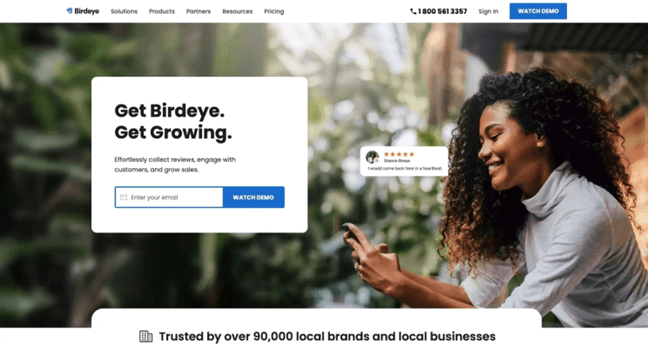 Birdeye provides several ways to contact your customers for feedback, including personalized text messages, email, the company website, Facebook plugins, and mobile kiosks. Birdeye also offers several tools for managing and tracking reviews, such as automatic alerts and updates. 
It also includes options for monitoring your social networks, detailed reviews analytics, and the ability to keep your online business listings up to date. 
They even demonstrate the entire review acquisition and management process in detail. 
Features: 
It provides several ways to request reviews from your customers via text message, Facebook, email, an in-store mobile kiosk, a form on your website, or a Birdeye microsite.

 

You can customize the messages sent on each platform in order to garner the best response.

 

You can set when you should contact a customer. It could be immediately after a sale is made, several days later, or several weeks later.

 

The platform makes it simple to monitor and track your existing reviews, regardless of the website they are posted on.

 

The platform integrates with several apps and programs, enabling you to leverage your customer databases to get more reviews.

 

You can reply to reviews from the Birdeye platform itself. If you are not sure how to respond to a review, Birdeye provides sample responses that you can also tailor according to your need.

 

You can create your own set of responses. You can automate the process of review monitoring based on the rules you set up.

 

Birdeye makes it easy to promote reviews across your social networks, like Facebook and Twitter, and on your website. It embeds data from reviews into your website's code, so your top ratings and feedback appear in search results.

 

Birdeye can build a microsite for all of your reviews. This can further help to boost your overall online reputation.

 

It also gives you the option to allow customers to chat with your business through text message.

 

You can build and send out surveys to customers. You can create a ticketing system for customers who are having problems with your product or service.

 
Pricing 
Birdeye provides preset and customized pricing based on how many business locations you have and what features you need. 
You need to provide the details about your business to see pricing for Birdeye's preset plans. Their plans start at $299 per month for one location for the Standard plan and $399 per month for the Professional plan. 
6. Podium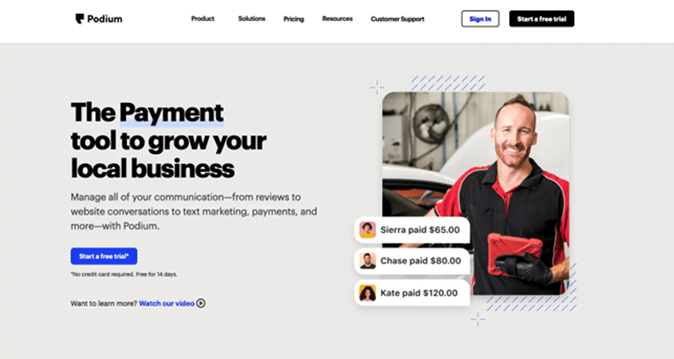 Podium is another good option for the best online review management tool. This is due to its user-friendly feature, which allows you to acquire new reviews while also managing them once they have been posted.  
This review management tool encourages customers to leave reviews through text messaging. You can even send personalized text messages to customers asking them to leave a review. 
Another significant benefit of using Podium is the detailed analytics on your reviews. You can analyze your reviews to identify trends in both negative and positive feedback, which will help you improve your operations.  
Podium has a web-chat widget that encourages people to leave their names and phone numbers. 
Features: 
Helps you get more reviews on the sites that matter the most to your business, like Google, Facebook, TripAdvisor, and more.

 

Manage your customer messaging from one inbox from Google, Facebook, SMS text, and more.

 

Interact with customers through text, email, and social media.

 

Improve your understanding of your customers by viewing consolidated customer feedback.

 

Gain insights into your reviews with detailed reporting and monitoring.

 

Create and send promotional messages to your customers via text messaging marketing campaigns.

 

Generate leads from your website with Webchat.

 
Pricing: 
Podium's pricing starts at $249 per month. It is customized based on the features you opt for and how many locations your business has. 
7. Reputation.com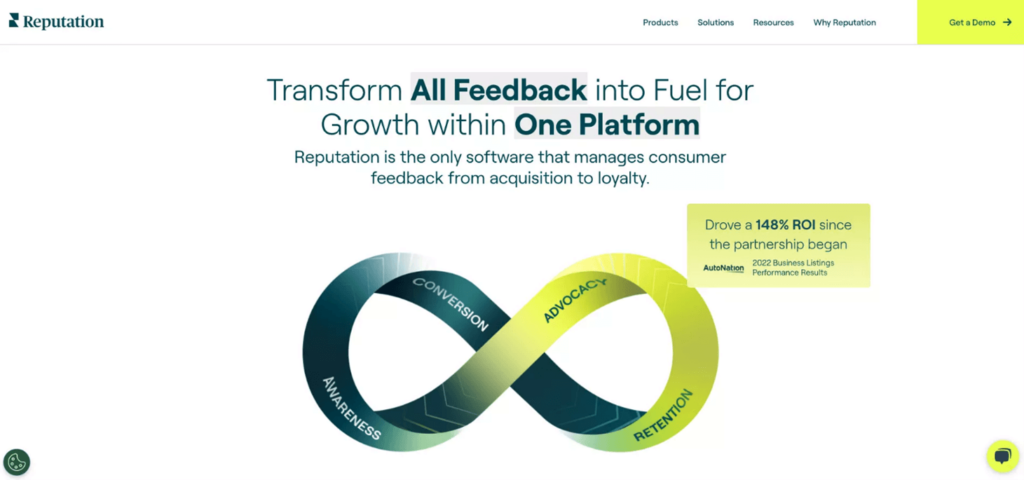 Reputation.com is a cloud-based reputation management tool that helps multi-location organizations to monitor and enhance their online ratings, reviews, customer service, traffic, and other factors. It provides a unified dashboard that provides a 360-degree view of both online and offline reputation. 
Reputation.com delivers a reputation score that calculates an organization's success across several client categories in real time, using star ratings, reviews, company listings, and social activity. The tool even has a machine learning-based AI program that offers tailored recommendations to enhance the consumer experience. 
Features: 
Cloud-based reputation management

 

Unified dashboard to monitor online and offline reputation

 

Reputation score calculation in real-time

 

Social network interaction

 

Sentiment analysis

 

Competitive benchmarking

 

Natural language processing

 

Machine learning-based AI program with tailored recommendations

 
Pricing: 
Pricing is discussed over a demo call. 
8. Yext
This platform is purpose-built to assist you in building and maintaining your online reputation by monitoring and responding to reviews on a large scale. Yext enables you to consolidate feedback from multiple review sites into a single dashboard. 
You have the option of creating a thoughtful message and a dynamic response to send to your customers. 
If you want to use a template, there are many options available. You can also add existing reviews to your website to increase clickthrough and engagement. 
Features: 
Creates and implements a comprehensive feedback management strategy that includes not only responding, labelling, and flagging, but also triaging customer reviews on a single platform.

 

This platform makes commercially reasonable efforts to respond to reviews within two days, barring any unexpected issues with publishers.

 

Their main goal is to generate more first-party reviews, which will then be monitored and responded to across the Power Listings network.

 

With their powerful analytics feature, you can dig into what your users are saying about you using natural language sentiment analysis.

 
Pricing: 
They essentially have 4 plans available for all types of businesses. The subscriptions start with an emerging plan at $199/yearly, an essential plan at $449/annually, a complete plan at $499/yearly, and the premium plan is priced at $999/yearly. 
9. Reviews.io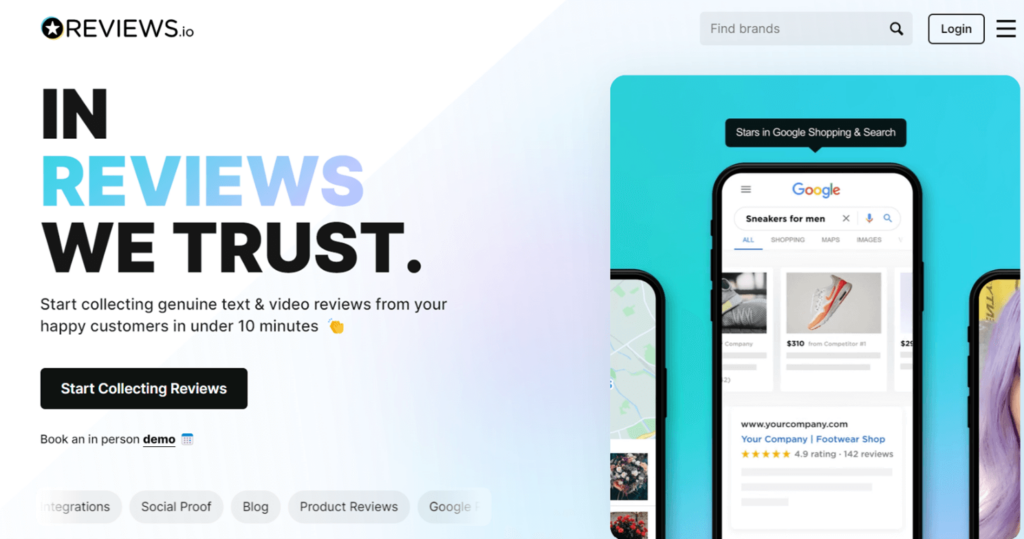 Reviews.io is an independent third-party review platform. It gives businesses the power to see a 360-degree view of their online reputation across the whole web, from one dashboard. 
The Reviews.io reputation management service invites reviews to the platforms where they are lacking a presence. This works by assigning a percentage of requests to platforms of the business' choice. 
Features: 
The product allows users to easily extract actionable insights from reviews, helping businesses make informed decisions based on customer feedback.

 

Reviews can be transformed into banners, providing a visually appealing way to showcase positive feedback and endorsements.

 

With a wealth of integrations, the product seamlessly connects with other software and services, expanding its functionality and versatility.

 

Users have access to expert answers, enabling them to obtain professional insights and advice on specific topics or issues.

 

Competitor analysis feature helps businesses gain valuable insights into their competitors' performance, strengths, and weaknesses.

 

Video reviews feature allows customers to provide feedback and testimonials in video format, enhancing the authenticity and impact of their reviews.

 

The product offers badges and widgets that can display reviews, social proof, and other forms of user-generated content, enhancing credibility and trust for businesses.

 
Pricing: 
The product offers a free trial and a demo for users to explore its features and functionalities before making a commitment, and it provides subscription plans ranging from $89 to $499 or more per month, catering to different business needs and sizes. 
1
0
. ReviewTrackers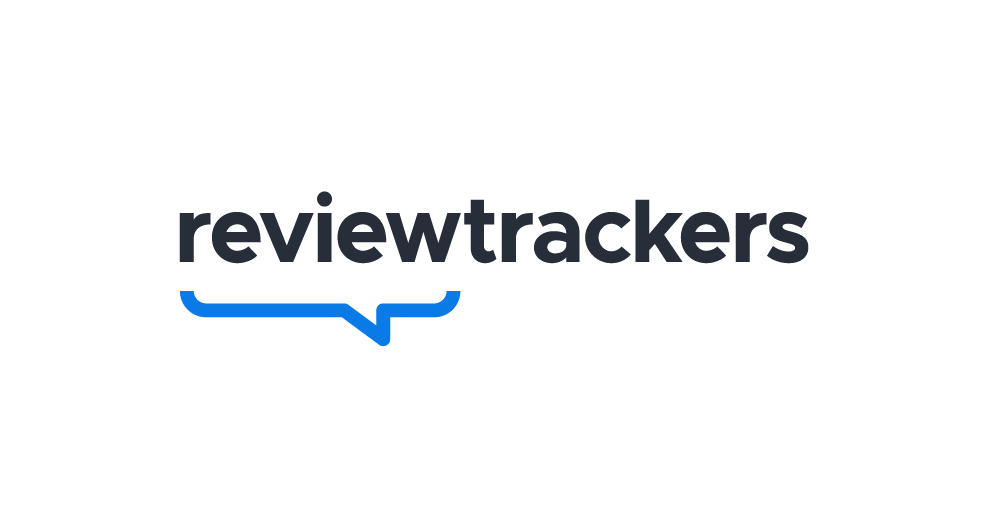 ReviewTrackers is the award-winning customer feedback software. It helps businesses transform the customer experience. The platform collects review data from 85+ review sites. Helping to enable brands to make data-driven decisions. ReviewTrackers helps busy professionals save time, money and resources. So they can focus on what matters most: their customers. 
Features: 
The product provides an API for seamless integration with other systems and platforms.

 

It includes a mobile app that allows users to access and manage the product on the go.

 

Customer experience analytics feature helps businesses track and analyze user satisfaction and improve their overall experience.

 

The local SEO solution is designed to enhance online visibility and improve search engine rankings for local businesses.

 

Unlimited users feature enables businesses to add and collaborate with an unlimited number of users on the platform.

 

The review and feedback request tool helps businesses collect valuable input and reviews from customers.

 

Daily alerts keep users updated with important notifications and changes within the system.

 

Custom reporting feature allows businesses to generate personalized reports based on their specific needs and requirements.

 

App store monitoring feature helps businesses track and analyze the performance and ratings of their mobile apps in various app stores.

 

The product offers compatibility with over 1000 integrations, enabling seamless connections with other software and services for enhanced functionality and efficiency.

 
Pricing: 
Detailed pricing is available upon request. 
Key Takeaway
Reputation management services' prices are often customized and range from a few hundred to several thousand dollars per month.
Conclusion
Effective online brand reputation management is crucial for maintaining a strong and growing brand presence. It's not about hiding negative feedback or projecting a false image of perfection. Instead, it's about ensuring an accurate and positive customer perception. 
Addressing customer issues promptly and transparently helps build trust and improves your brand's reputation. You don't necessarily need a dedicated team for reputation management. With the right tools, you can efficiently manage your brand's online reputation while focusing on running and growing your business. 
Online reputation management tools handle the bulk of the work, giving you valuable time to dedicate to other aspects of your business. By utilizing these tools effectively, you can stay connected with your audience, foster positive customer perceptions, and ensure the continued success of your brand.