In today's business landscape, digital transformation has become an essential aspect regardless of whether you operate a small business or oversee multiple enterprises. As your company grows, the number of responsibilities and decisions you must handle also increases, making it challenging to manage various departments, tasks, clients, and meetings simultaneously.
That's why investing in business management software has become crucial to enhance productivity. The global business management software market was valued at $429.59 billion in 2021 and is expected to grow at a CAGR of 11.7% from 2022 to 2030. It's a massive market with many players. But, on the upside, this gives you many options to choose from. 
Why Business Management Software is important?
By implementing a comprehensive business management software, you can effectively stay organized and streamline operations by automating time-consuming tasks. The right software solution has the potential to accelerate the growth of your business by anticipating risks, improving client engagement, and efficiently monitoring projects and employees.  
By leveraging the power of technology, you can optimize your business processes, make informed decisions, and propel your company towards success in a rapidly evolving digital landscape. 
Do You Know
According to research conducted by Global Market Research Insights, the use of business management tools provides various advantages such as ease of use, flexibility, improved productivity, and reduced cost of the solution. As a result, the Business Process Management (BPM) market is projected to reach $23.04 billion by 2024.
7
Business Management Softwares
The best business management software implies different things to different people. For example, you may be more interested in a powerful CRM, while another may be more interested in workflow automation.  
Here are the top business management software to help with your operations and team management! 
1. ProofHub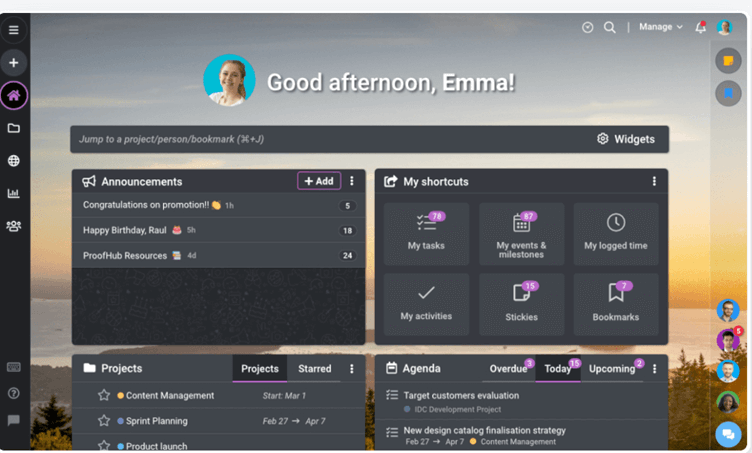 Proofhub is a project management platform simplifying how you plan and manage projects. With Proofhub, you can create custom workflows, task boards, and group discussions. In addition, you can get rid of about six apps and platforms by switching to this one-hub station for your projects. 
Key Features: 
Multiple views for your project, including kanbans, Gantt charts, table and calendar views, 

 

Templates to simplify project planning and implementation

 

Daily agenda for a shared team objective

 

Custom fields for your tasks

 
Pros: 
With Proofhub's mobile app, you can work from anywhere

 

Several features for simple project management

 

Strong administration and authorization control

 

White labeling

 
Cons: 
Because of the numerous features, the first learning curve might be steep

 

It is difficult to control the type and frequency of notifications

 
2
. Zoho One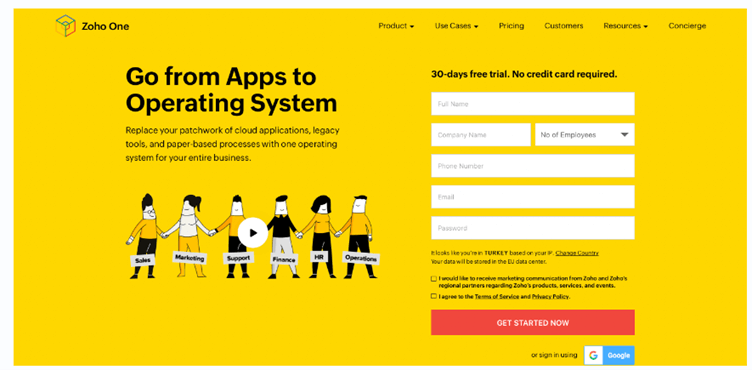 With Zoho One, you get an all-in-one business management software with a complete suite of applications and features. This business management software tool comes with multiple purchase options: You can buy individual apps, bundles, or the all-in-one complete suite, so you can pick and choose based on your business plan and specific needs. 
Key Features: 
Streamlines operations and increases productivity

 

Offers customization options with no-code, low-code, and developer tools

 

Facilitates project management

 

Delivers a personalized customer experience

]

Automates repetitive tasks

 

Collects leads and helps close deals

 

Comprehensive suite of tools for achieving business goals and driving profitability

 
Pros: 
Integrated suite of applications

 

Cost-effective pricing model

 

Customizable to match specific business needs

 

Scalable for businesses of all sizes

 

Mobile-friendly access

 
Cons: 
Learning curve for users

 

Limitations in third-party integrations

 

User interface inconsistency across applications

 

Potential limitations in support

 

Reliance on stable internet connectivity

 
3
. HubSpot CRM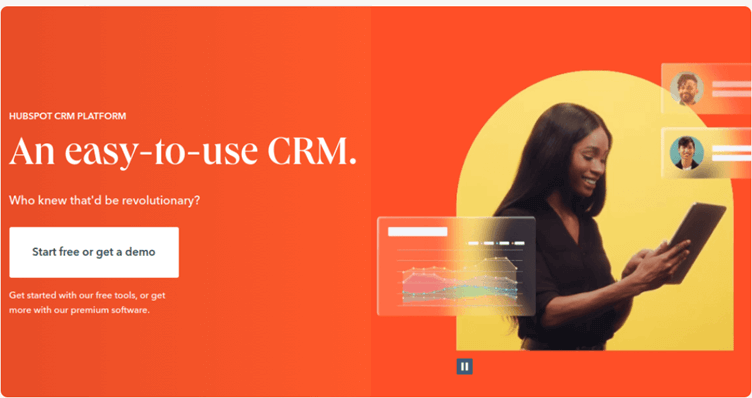 HubSpot is a household name in customer relationship management (CRM). For smaller businesses and teams, the free edition of Hubspot CRM is quite feature-rich.  
While they specialize in email marketing software, HubSpot also offers a suite of marketing, sales, customer support, and operations solutions ranging from email workflows to a custom website builder to help you manage your entire business in one location. 
Key Features: 
Email tracking and engagement notifications to simply prospect and lead management

 

Rich training materials, including a detailed knowledge hub, webinars, and videos

 

Live chat makes it easy for customers to reach your sales team

 

The real-time view of the sales pipeline is pretty impressive

 

Email templates to simplify prospect follow up

 
Pros: 
View relevant contact data on the go using the mobile application

 

Generate more leads for your business with customizable web forms

 
Cons: 
The overall cost of the tool increases rapidly as you expand its functionality

 

Email templates are challenging to modify  

 
4
. Netsuite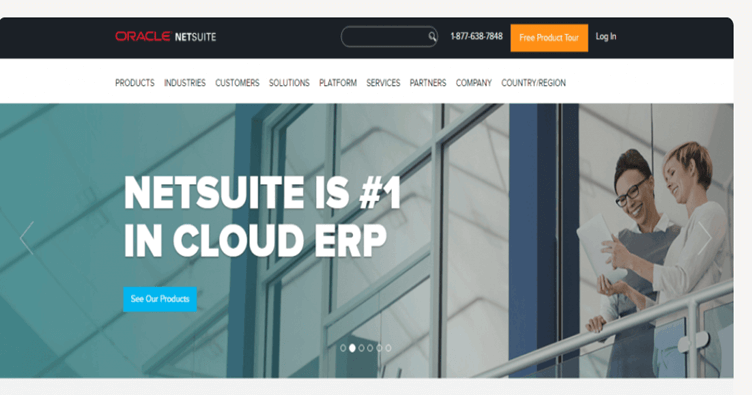 Netsuite is a business management software that helps companies manage enterprise resource planning. It's a cloud-based platform offering CRM, financial, and e-commerce management.  
You can automate workflow processes, access powerful business intelligence data, and gain access to your financial and operational performance from a central dashboard. 
Key Features 
Multiple screen views that enable you to have different features open at once

 

Users can vote for bi-annual changes and feature updates

 

Native business intelligence

 

Effective resource management, project accounting, timesheet and expense management

 
Pros: 
Aerial view of several company units, corporate headquarters, and even global offices

 

Capabilities for advanced customising and customization

 

User-friendly and adaptable 

 

Strong reporting capabilities

 
Cons:   
Occasionally, features that may be useful to some people are removed.

 

Expensive add-ons that may have been included in the primary solution

 

Documentation is extensive yet perplexing

 

Inadequate mobile experience

 
5
. Bitrix24
Bitrix24 is appealing if you want a full array of team collaboration, management, and communication solutions that will take your customer management and company duties to the next level. Bitrix24, being one of the all-in-one company management software, provides a complete job management and project monitoring solution for teams. 
To generate more revenue and capture leads, Bitrix24 offers an internal social network where you can collaborate easily and use marketing automation to engage with your prospects. 
Key Features: 
An internal social network lets you collaborate easier, faster and more efficiently

 

Get instant feedback, share ideas, create workgroups and engage your employees

 

Online multi-user editing and custom document approval workflows

 

Sell more with Bitrix24's CRM and sales team management

 

It works on your iPhone, iPad or Android too

 
Pros: 
Functionalities for holistic business operations: Manage clients, supervise personnel, plan and perform projects, and give e-learning possibilities from a single location

 

Multiple task views, including calendar, planner, and Kanban

 

Bitrix24 may be easily customised to meet your requirements or integrated with other suppliers via their partner shop

 
Cons: 
Creating recurring tasks is only accessible as a premium feature

 

There are no project templates in the free version 

 

Complex user interface

 
6
. Atlassian JIRA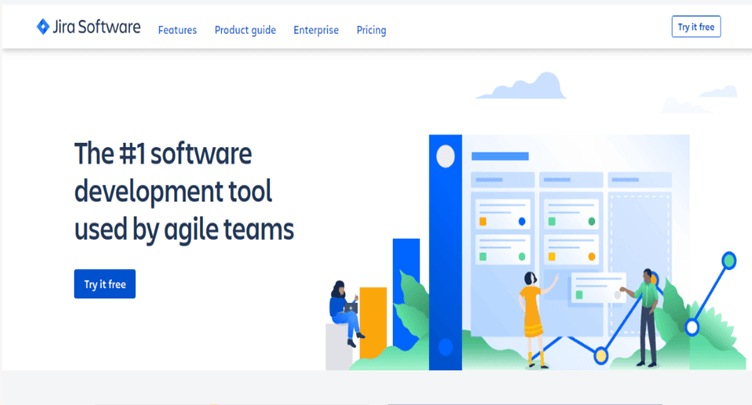 JIRA is a workflow mapping and project planning software that is designed to help software development teams of all sizes and industries. Kanban boards, burnout charts, project reporting tools, etc are some of the popular capabilities of this tool that support teams at various stages of the development lifecycle. Also, it integrates with various developer tools and is available as a cloud-based solution. 
Key Features: 
Roadmaps that are connected to real work

 

Visualizing work in progress

 

Bugs and defect management

 

Polished user experience

 

Customizable dashboards and wallboards

 
Pros: 
Robust issue tracking capabilities

 

Flexible project management features

 

Extensive customization options

 

Integration capabilities with third-party tools

 

Comprehensive reporting and analytics

 

 
Cons: 
Steep learning curve for new users

 

Complexity can be overwhelming for small teams or less complicated projects

 

User interface can be complex and cluttered

 

Maintenance and administration requirements, especially for on-premises installations

 

Cost considerations, as JIRA is a commercial tool with potential expenses for licenses and add-ons

 
7
. Trello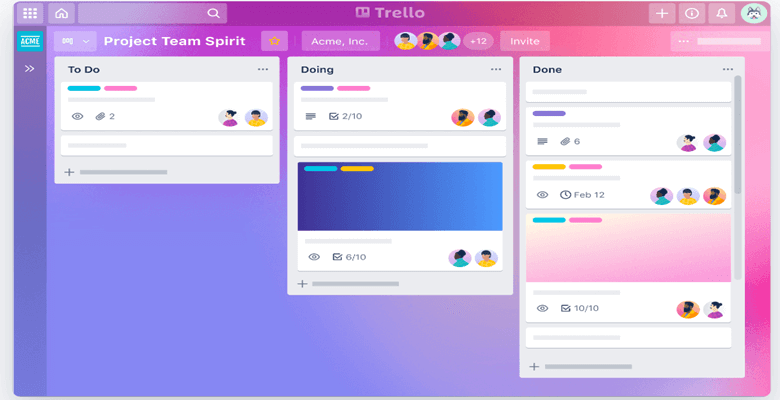 Trello is a business management platform that helps small business owners keep track of their team's work and track each individual task to ensure its delivery. The software has a simple interface that enables you to manage projects with ease, allowing you to create task dependencies and assign work to each team member.   
You can send projects to specific team members, invite co-workers to different boards, assign deadlines, and set up custom notifications. 
Key Features: 
Easy organization with tags, labels, and categories

 

Drag and drop functionality

 

Mobile functionality to access boards on the go

 

Quick overview on front and back of cards

 

Texts and visuals fit any screen size

 
Pros: 
Beautiful interface to easily view project or task progress

 

Lots of free templates for almost every business facet

 

No-code automation to streamline workflows

 
Cons: 
Lacks flexibility for larger teams

 

Reporting features are basic

 

Limited storage

 
Pro Tip
Selection of a Business Management Tool truly depends on your requirement of automating the tasks and processes. The business size and price of the software also play an important role in the selection process.
Conclusion
In today's fast-paced business environment, it is important to leverage effective business management approaches to streamline daily tasks. A reliable business management software not only enhances your skills but also brings efficiency to various business processes.  
When it comes to handling project uncertainties, modern project tools become an invaluable asset for managers. Ultimately, the aim is to foster a successful business and ensure employee satisfaction, which can only be achieved through effective management practices.