Customers are the lifeblood of every business, therefore keeping their information organized and easily accessible is important. Modern contact management software reduces input errors, saves time, and assists your team in gathering and organizing current customer information. 
The goal of contact management software is straightforward: to make it simpler to utilize your relationships based on your needs and interests rather than just organize them. To put it simply, the software will make it much easier to organize all of your connections and conversations in one location. 
Why Contact Management Software is important?
89.9% of businesses utilise two or more solutions for contact data and lead enrichment, with contact management software being one of them. Before you can nurture and chase leads, you must first gather information about your potential clients. In today's hyper-competitive, global, and internet business climate, putting information in a pocketbook just does not cut it. 
Contact management software allows your team to track the many phases of awareness a lead may be in, take up a discussion where it left off, and use all available data to push the prospect along the sales pipeline without generating friction. 
Do You Know?
86% of customers will pay more for a better customer experience, and businesses that focus on improving CX see a stunning 80% increase in revenue.
15 Contact Management Softwares:
An organization's success can be greatly aided by effective contact management. However, you need to find the best contact management software to streamline the process. This type of solution should maintain contact information organized, updated, and easily accessible. 
With numerous options available, selecting the best tool can be a challenging task. To simplify the process, we have compiled a list of the top 15 contact management solutions that are worth considering: 
1. BIGContacts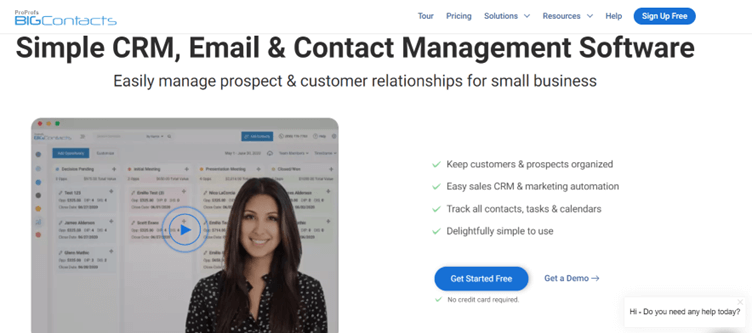 BIGContacts is a user-friendly and intuitive CRM application that excels in automation capabilities. With this contact management software, you can effortlessly track contact details, previous interactions, upcoming appointments, and transaction history, all from a single platform. The software also empowers you to create automated email campaigns that deliver tailored messages to contacts based on their individual needs. 
Key features: 
Access contact cards to see all associated tasks, papers, last touches, and forthcoming events in one spo

t

 

Log all interactions against the appropriate contact data automatically

 

Custom dashboards provide real-time visibility into contacts

 

You may find information anywhere and anytime with a mobile app and offline access

 

Automate repetitive activities, reminders, and workflows

 
2. Monday.com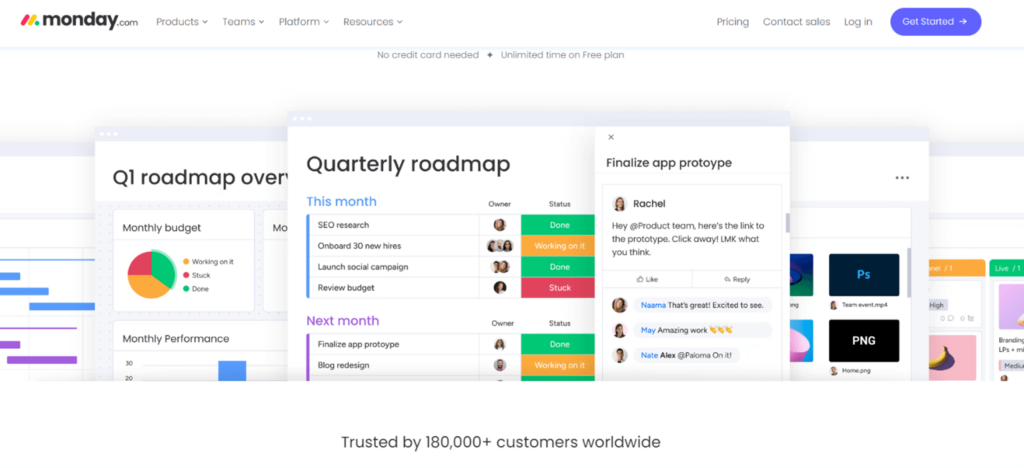 Monday.com is a website that centralizes customer information, duties, and communications. It can potentially improve your connections by making every interaction more targeted and relevant. You can be assured of your customer experience when Monday.com handles your contact information. This highly customizable software allows you to tailor workflows, processes, pipelines, and other features to your own company requirements.
Key features: 
Simple and easy to use

 

Can be used across all departments

 

Track leads from an email list

 

Pre-built contact management templates

 

High customization

 

Shareable web forms

 

Free plan for up to two users

 

Unlimited boards

 
3. Covve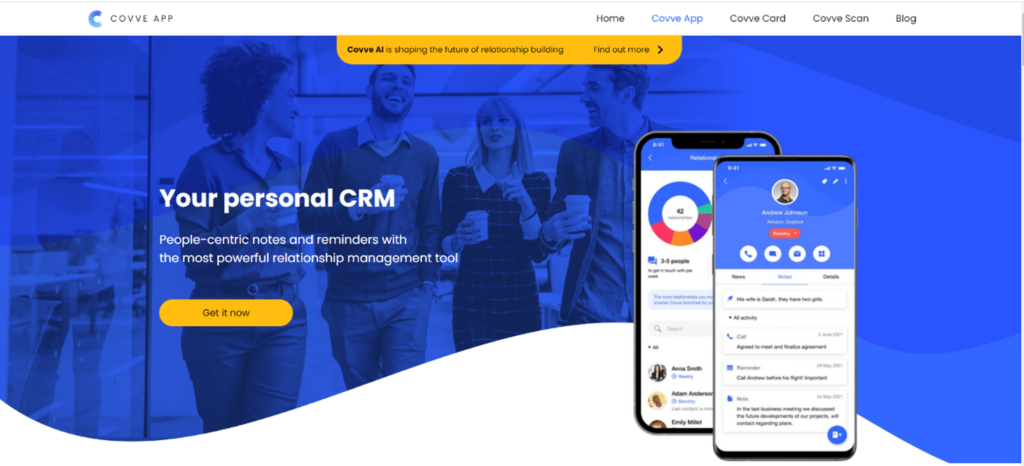 Covve allows you to develop genuine relationships by keeping contact information organized. By tracking interactions and giving actionable data, it ensures that no vital communication opportunity is lost. This intelligent contact database software helps increase client retention by providing personalized experiences. You can also set up automated reminders for essential chores and events with Covve. 
Key Features: 
Keep data synchronized with your phone's contacts

 

Set up smart reminders for the right time to engage with contacts

 

Add notes to contact records to store additional information

 

Get access to networking analytics data to optimize your contact management efforts

 

Add contacts to your system by simply scanning business cards

 
4. Freshsales
Freshsales automates contact management by automatically capturing and logging data. The programme allows you to track contact information and communication history all in one location. Furthermore, Freshsales' 360° view of contact data might help you personalise your interactions. You may also integrate the app with your email inboxes to remain on top of every conversation.
Key features: 
Track touchpoints by viewing comprehensive activity timelines

 

Enrich contact records with publicly available info automatically

 

To engage with high-value chances, use contact scoring

 

Keep track of tasks, notes, and files associated with contacts

 

Using automated email sequences, connect with contacts at the proper time

 
5. Copper CRM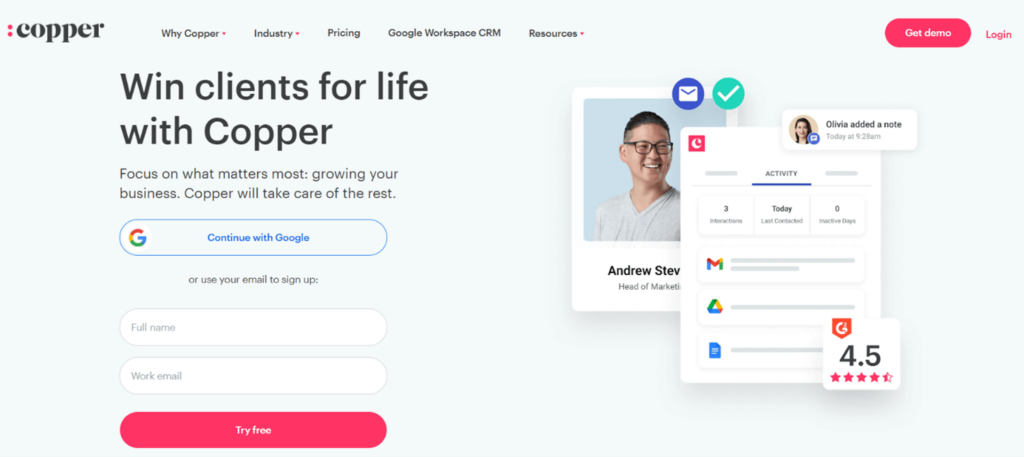 The Copper CRM tool works well within Google Workspace. This solution can be used for contact management in businesses that want to keep their data synchronized across applications. It allows for deal and email tracking from the same platform. Copper also makes adding new prospects and handling duties simple, which contributes to increased efficiency.
Key features: 
Find all emails, files, and notes related to contacts in one place

 

Add new contact data directly from Gmail or Google Calendar

 

Contact records are automatically supplemented with information such as phone numbers, email addresses, and social media accounts

 

Tag and filter contacts depending on your preferences

 

Use live activity feeds within contact profiles to stay up to

da

t

e

on real-time interactions

 
6. Nimble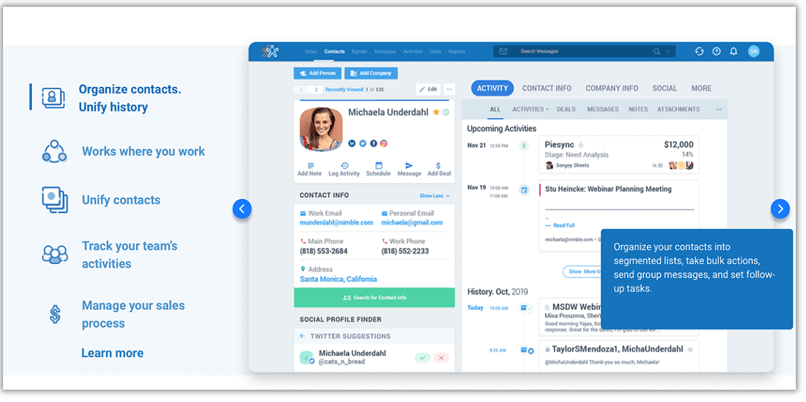 Nimble enables you to create a contact database and access it via email, mobile, browser, and productivity suites. The CRM will manage the complete sales process, as well as establish contacts and integrate with social media. It is one of the top contact management software for small businesses.
Key features: 
Contact management

 

Calendar synchronisation

 

Capture of email signatures

 

Email and activity monitoring

 

Group messages

 

Pipeline management

 

Sales reports and projections

 

Google Workspace and Office 365 support

 
7. Streak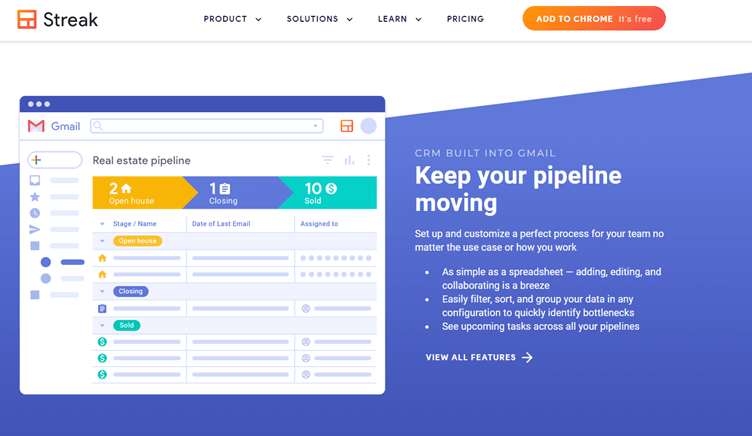 Streak is a lightweight CRM for small to medium-sized businesses that integrates seamlessly with G Suite applications. It has functions including social media integration, task management, and email marketing. Live and shared pipeline information and tasks enable quick team cooperation. Pipeline and individual contributor data can be tracked via visual reports.
Key features: 
Pipeline management

 

Gmail integration

 

Zapier integration

 

Mobile for Android & iOS

 

Customizable workflows

 

Reporting

 
8. Bigin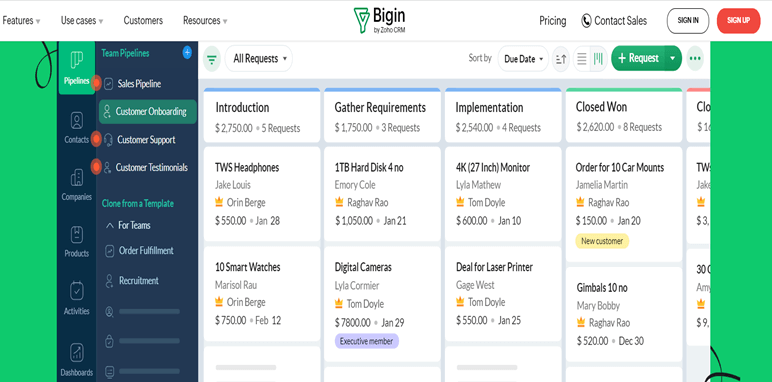 Bigin by Zoho CRM is ideal for those who do not need heavy features and often use spreadsheets. It is simple, keeps track of all the contacts, and has a single minimalist dashboard. It is built for small businesses and offered at an affordable rate.
Key features: 
Easy to use drag-and-drop form builder

 

Build customizable pipelines

 

Assign tasks to teammates

 

Filter and view pipelines

 

Versatile tool

 

Workflow builder

 

Built-in telephony features

 

Seven pre-built integrations with third-party apps

 
9. HubSpot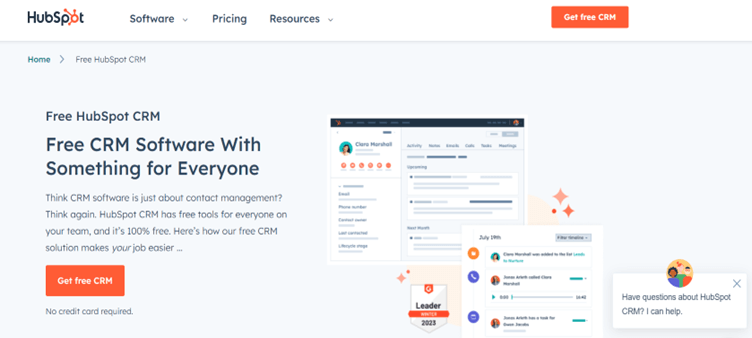 If you are looking for an effective way to manage leads and organize customers, HubSpot is a complete solution to everything. The all-in-one marketing suite has an easy-to-understand dashboard and a deal flow that can be tracked to measure performance against a set quota. It has all the features that the sales team can use. 
Key features: 
Add contact records from Outlook and Gmail or web forms

 

Auto-update records

 

Supports up to one million contacts and company records

 

Clean and user-friendly dashboard

 

Email tracking

 

Free CRM plan for small businesses

 
 10. Salesforce
 
Salesforce is a renowned CRM application that integrates contact and sales management to increase conversions. Because of its enterprise-grade functionality, businesses prefer this cloud-based service. This software allows for great customization, allowing you to tailor it to your specific needs. Salesforce also includes a powerful reporting tool that allows you to better manage your business data. 
Key features: 
Manage contact information across numerous channels from a single location

 

Enhance consumer profiles with data from several platforms

 

Improve productivity by automating workflows and repetitive tasks

 

Receive immediate notifications for contact activity such as email openings and clicks

 

Make use of AI-powered recommendations to improve your procedures

 
11. Pipedrive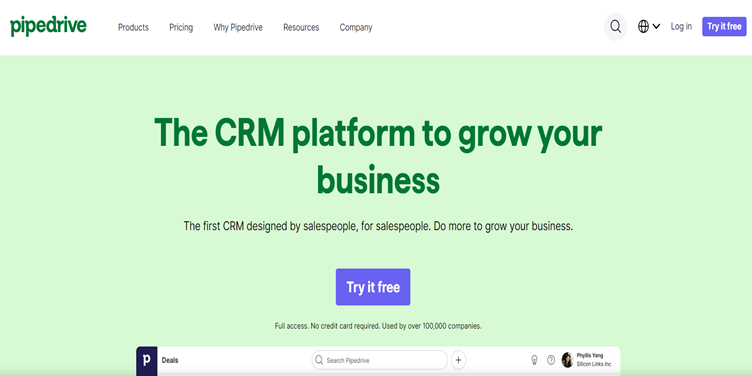 Pipedrive is a sales-focused CRM with contact management. It allows for lead tracking, information syncing, and sales activity monitoring across channels. The smart contact data will find web data through LinkedIn, saving time and ensuring that no key details are missed.
Key features: 
One-click pre-qualification of leads using email addresses

 

Gmail integration

 

Simple and easy to use dashboard

 

Automation of the repetitive administrative tasks

 

Customization of activities

 

Email integration tool

 

Create unlimited pipelines to manage contacts

 

Sales reporting and sales forecasting tool

 
12. Insightly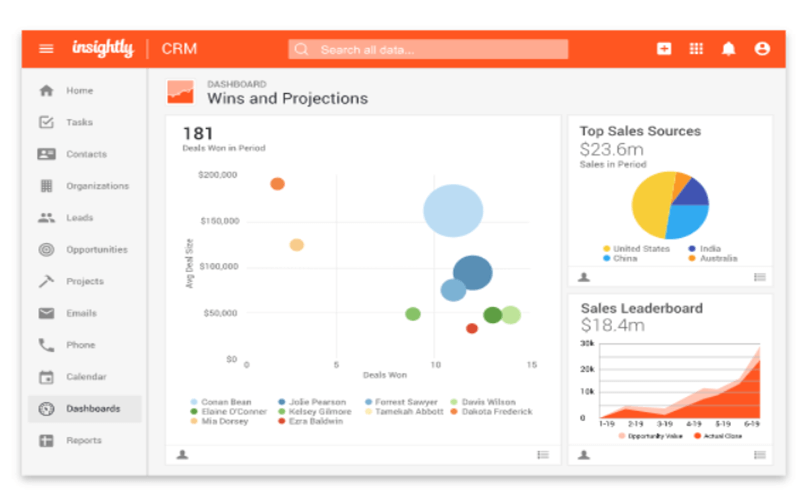 The amazing thing about Insightly's contact management solution is how automated it is. The software monitors prospective sales activity on your leads and automatically sends those leads to the appropriate member of your sales team so they can strike while the iron is hot. 
Insightly can also send bulk emails to customers and notify the sales team when contacts open emails, and its account management tools keep everything in order. 
Key features: 
Understand the contact's organizational structure with relationship linking

 

Create automated workflows with multiple rules and steps

 

Ensure the security of business data with user roles, sign-on verification, and authorization

 

Use the drag-and-drop functionality to create custom real-time data dashboards

 

Customize workflows and views as per your business needs

 
13. Zendesk Sell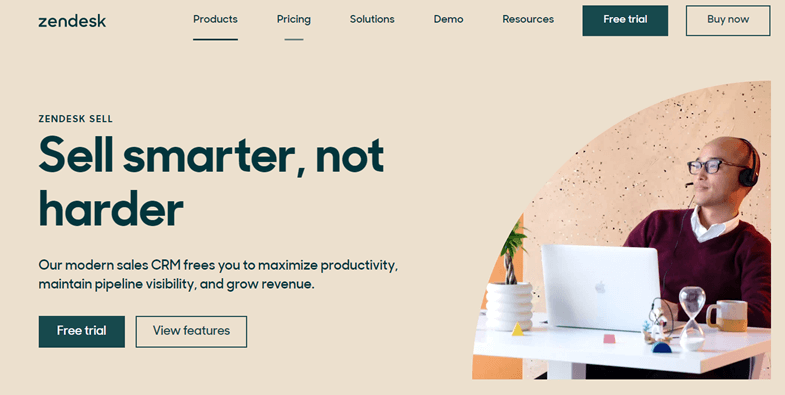 Zendesk Sell is a CRM software solution for sales that includes some of the most helpful contact management tools available today. Sell is readily integrated into everyday routine regardless of where your team is or what their IT capabilities are, thanks to mobile access and a configurable and intuitive user experience. 
Zendesk Sell increases salesforce efficiency by enabling your team to convert more leads through conversational and consultative selling. 
Key features: 
Create intelligent contact lists for efficient segmentation and targeting

 

Custom sales pipelines provide total visibility into prospects and clients

 

Receive real-time alerts for contact activity

 

Set up automated email and task sequences based on triggers

 

Create bespoke dashboards using a drag-and-drop interface to monitor important performance data

 
14.
Keap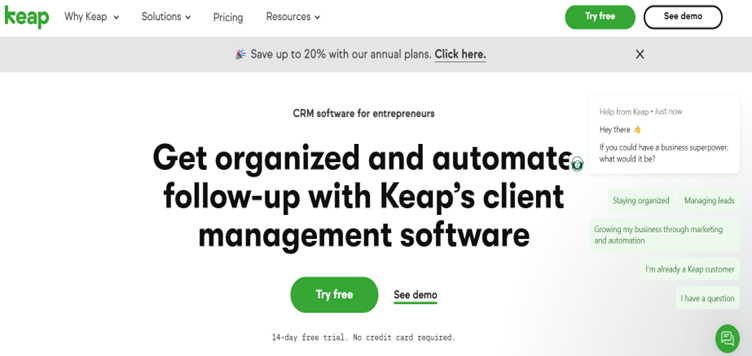 Keap's CRM is a powerful solution for small to medium businesses. This solution stores and organizes contact data in neat files, so you can keep track of how they interact with your business, guide their customer journey, and create predictable sales pipelines. 
The software comes with a useful mobile app that works well on Android and iOS, enabling your team to keep in touch with contacts remotely.
Key features: 
Contact database

 

Customizable templates

 

Analytics/ROI tracking

 

Calendar/reminder system

 

Lead qualification

 

Marketing automation

 
15. SugarCRM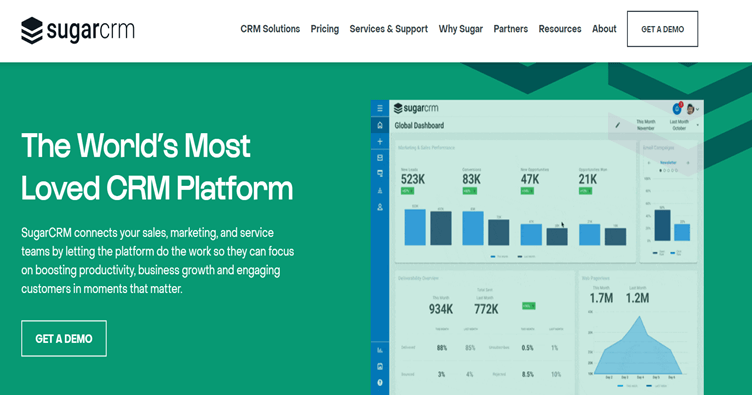 SugarCRM is an open-source platform that is perfect for larger organisations with development teams that can customise it to fit their needs. It has a robust set of tools and capabilities, and while it is popular with larger firms, SugarCRM claims to have a terrific small company solution that is worth investigating.
Key features: 
Create multi-step engagement campaigns to foster stronger relationships

 

Get real-time alerts and valuable insights into contacts

 

Automate processes to improve organizational productivity

 

Enhance data management with user access permissions

 

Predict customer needs and deliver reliable experiences accordingly

 
Tip
Before making a decision, it is best to try out a few solutions, especially those that come with free versions.
Conclusion
The above list of the 15 best contact management software options provides reliable solutions for managing prospect and customer data. These tools effectively streamline contact management processes, enabling businesses to establish and maintain long-lasting relationships. 
However, it's important to note that every business has unique requirements when it comes to implementing their tech stack. It is crucial to communicate with your team members to identify their specific needs and areas where assistance is required. Additionally, considering key features such as integrations, automation capabilities, usability, and overall functionality is essential in finding the most suitable contact management solution for your business.