What is SBG funding?
SBG Funding is a reputable alternative lender that has been supporting small business owners for several years, providing them with a convenient alternative to traditional banks. SBG Funding offers a wide range of appealing and customizable loan options, including term loans, business lines of credit, equipment financing, and invoice financing.  
Hundreds of businesses have used SBG's financing solutions because of their favorable loan terms, low credit score requirements, and quick funding. With an 85% approval rate, the company comes highly recommended to those with bad credit. 
SBG Funding Editor's Score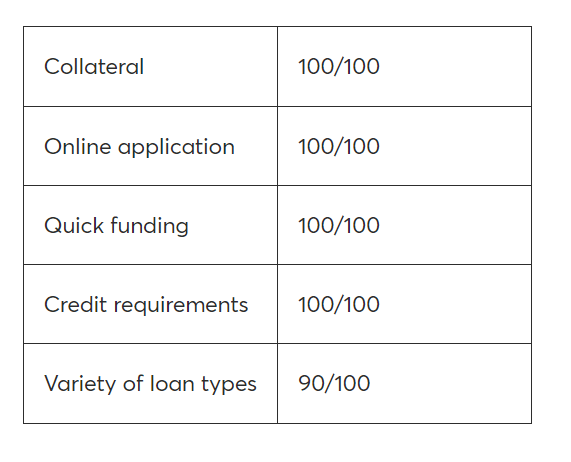 Why SBG Funding Is Best for Flexibility?
What sets SBG funding apart is its exceptional flexibility in terms and conditions, allowing small business owners to find a financing solution that aligns with their specific needs. Moreover, one of the standout features of SBG funding is its commitment to transparency, as the company does not impose any additional fees on borrowers.

Many of the alternative lenders provide a restricted variety of options for loan amount and repayment timeframe, even though various businesses have distinct funding requirements. Some business owners choose lower monthly payments with longer repayment terms, while others prefer to reduce total financing costs.  
SBG Funding offers term loans up to $5 million with repayment terms ranging from one to five years. The organisation is willing to adapt its conditions to fit a range of business finance needs, making it the ideal lender for business owners looking for flexibility. SBG will provide you with a more personalised financial solution than you are likely to get elsewhere. 

Pros
Term loans from SBG Funding have repayment terms ranging from one to five years.

 

Borrowers with weaker credit scores will be approved by the lender.

 

The company's term loan maximum of $5 million is much higher than that of comparable providers.

 
Cons
SBG Funding quotes a low starting monthly rate rather than the full annualized rate.

 

Some business owners may not have the necessary documentation to apply immediately.

 

The company doesn't facilitate bank account integration during the application process.

 
Loan Types
SBG Funding offers a diverse range of six loan options tailored to meet the financing needs of small business owners: 
Term loans:
Borrow up to $5 million, with flexible repayment terms of one to five years, allowing you to choose between biweekly or monthly payments. This extended term option sets SBG Funding apart from competitors like Balboa Capital. 
Lines of credit:
Access lines of credit up to $150,000 with repayment terms ranging from six to 24 months. SBG Funding's longer terms, compared to competitors like Fundbox, provide added flexibility. Additionally, the quick approval process within 24 hours and absence of penalties for early repayment make it an attractive choice. 
Equipment financing:
SBG Funding's equipment financing option enables you to finance the full cost of equipment purchases. Terms span from one to seven years, and there are no prepayment penalties. With an approval decision in 48 hours and competitive interest rates starting at 3.75%, it stands out as a solid choice, comparable to offerings from Crest Capital. 
SBA 7(a) loans:
Secure SBA 7(a) loans of up to $10 million through SBG Funding. Repayment terms range from two to 10 years, and there are no prepayment penalties. While approval for SBA loans may take longer, SBG Funding's attractive starting interest rates of 2.5% plus the prime rate make it worth considering. 
Bridge capital
:
SBG Funding offers bridge capital loans up to $1 million, with approval decisions made within 24 hours. Repayment terms span from six months to two years, allowing weekly or monthly payments. Prepayment penalties do not apply, and early repayment may even qualify for a discount, setting it apart from other products. 
Invoice financing:
Opt for invoice financing and receive a loan of up to 90% of your accounts receivable. Repayment terms are flexible, allowing monthly or weekly payments at competitive rates as low as 0.25% per week. SBG Funding typically approves or declines applications within 24 hours, providing swift access to funds. It's important to note that invoice financing operates differently from invoice factoring. 
SBG Funding Features
Loan Selection
When it comes to loan selection, SBG Funding stands out as an exceptional alternative lender. They offer a diverse range of loan types, allowing borrowers to choose the option that best suits their business requirements. Whether it's a term loan, line of credit, invoice financing, equipment financing, SBA 7(a) loan, or bridge capital, SBG Funding provides a wide breadth of services compared to other lenders in the industry. 
Flexible Terms
One of the key advantages of SBG Funding is their flexibility in terms. Borrowers have the freedom to pay off certain loans in less than a year or spread out their payments over a span of up to five years. This range of repayment options empowers borrowers to manage their cash flow more effectively, accommodating their unique financial circumstances.  
Various Loan Amounts
SBG Funding understands that different businesses have varying capital needs. They can deliver various loan amounts, ranging from tens of thousands of dollars to as high as $10 million, depending on the loan type. 
Loan Terms
SBG Funding's repayment terms are substantially more flexible than other lenders we investigated, as the organisation is willing to customise the arrangement to your specific circumstances. SBG can even arrange payment-deferred loans for the first three months in select situations. Here are a few more terms and conditions to consider when considering SBG for your finance needs. 
Collateral
SBG Funding loans are unsecured, which means no collateral is required. SBG may, however, demand you to sign a personal guarantee. If your company fails to repay the debt, you will be personally accountable. 
Special Documentation
You'll need many documents on hand to apply for a loan from SBG Funding online, including your previous three months' business bank statements, a copy of your driver's licence, and a voided check. You can also submit a paper application, but all of the same documents are necessary. 
Application Process
SBG's 10-minute application process is as easy as 'one-two-three'. Here's is a step-by-step guide on how to apply for SBG funding online: 
Step 1 
Go to https://sbgfunding.com/apply-now/ and fill in your: 
Full name

Business email address

 

Phone number

 

Website address

 

Business information

 
Step 2 
Step 3  
Upload the necessary files and documents, including: 
Bank statements of small business credit card usage

 

Income statements

 

Federal tax Information

 

Legal entity type

 
After you've filled in this quick application, an agent will contact you within 24 hours. Go through the terms and conditions, accept the offer, and receive funds into your bank account on the same day. 
For those who don't want to complete an online application, there are paper applications available here. 
Unlike other loan providers—who perform hard credit inquiries on your credit score—an SBG Funding application will not impact your credit score. 
Customer Service
SBG Funding engages with business owners via phone and email, but you are also welcome to visit the office. The organization also has an informative business funding blog and an easy-to-use loan funding calculator on its website.  
Instead of burdening lower-qualified enterprises with exorbitant interest rates, SBG agents seek to direct customers into smaller loan packages. We admire such an ethical, customer-first approach, which is one of the reasons many consumers commend SBG's customer service online, with few complaints. 
Limitations
One advantage of working with SBG Funding as your loan provider is that it is willing to work with business owners who have poor credit and organisations that don't generate much revenue. However, this frequently results in higher interest rates. For its term loans, SBG specifies a 1.75% average monthly interest rate, which differs from an annualised percentage rate and may be deceptive.  
Furthermore, SBG Funding requires business owners to have a voided business cheque on available for uploading or including with a paper application when applying for a loan online. Because paper checks are being used less and less these days, this may be a time-consuming inconvenience for some business owners that require funding promptly. 
FAQs
Is SBG funding legit?
Yes, SBG Funding is legit and a highly trustworthy company. The lender's Trustpilot rating is 4.9 out of 5 stars across 1,480 reviews. 
What are the most common loans obtained through SBG Funding?
The most common loans obtained through SBG Funding are credit lines, with 35% of new borrowers going this route in 2022, according to a company representative. On the flip side, SBA 7(a) loans and equipment financing are the lender's least popular options. Roughly 50 borrowers per year take out each of these with SBG Funding. 
Which types of companies can use SBG Funding?
Many different types of companies can use SBG funding, including those in retail, healthcare, manufacturing, transportation and construction, as well as restaurants. 
Does SBG Funding offer SBA loans?
Yes, SBG Funding offers SBA 7(a) loans, but the qualifications are more extensive than those for other products. For example, you need to prove you've been in operation for two years, not just six months. 
Conclusion
SBG Funding is recommended for borrowers who value flexible repayment terms, small-business proprietors with poor credit, and small firms seeking loans in the millions of dollars. However, it may not be the ideal choice for well-qualified business owners with strong credit seeking the best interest rates or for those in urgent need of funding without the required documentation. 
Overall, SBG Funding stands out as a reliable choice for small business owners, who are in need of financing.