Task automation software has become an integral part of various industries, revolutionizing the way we work and live.. It is used in various industries, such as manufacturing, where robots automate assembly lines. We also experience automation in our daily lives, with automated bill payments and vacation responders.  
Automation has revolutionized the way we work by reducing manual tasks, increasing productivity, ensuring consistency, and allowing us to focus on core business aspects. It has truly transformed our lives. 
In this article, we will explore task automation and present a list of the top 10 task automation software available today. Each tool will be discussed, highlighting its unique features and benefits. Continue reading to find the perfect automation software that suits your business needs. 
What is Task Automation?
Task automation simplifies work by utilizing tools or software to minimize or eliminate the manual labor involved in completing basic tasks. Its objective is to enhance efficiency and productivity by automating processes.
Choosing the most suitable task automation tools depends on the specific tasks or processes you intend to automate. To assist you in making an informed decision, we will now delve into a selection of the best task automation tools currently available.
How to choose a task automation software?
Here are some key features to consider when evaluating automation software:
1. Integrations: Look for software that seamlessly integrates with your existing systems and applications to ensure smooth data flow and compatibility.
2. Pricing: Take into account the pricing structure of the automation software, considering factors like subscription plans, scalability options, etc.
3. Email capabilities: Consider whether the automation software provides robust email automation features.
4. Dependencies: Assess whether the software supports task dependencies, allowing you to automate complex workflows and ensure that tasks are executed in the correct order.
By considering these features, you can make an informed decision and select automation software that aligns with your business requirements.
10 Best Task Automation Software
Here are 10 widely recognized automation tools that you can use today:
1. ClickUp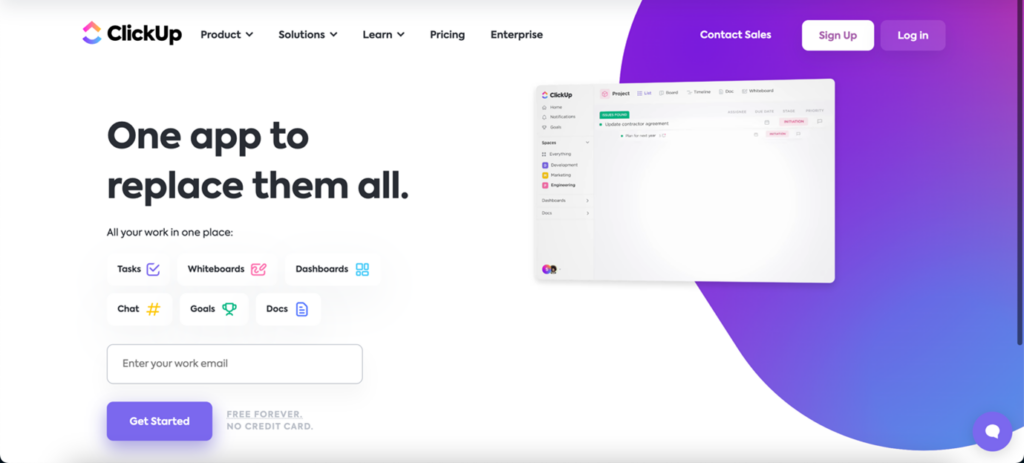 ClickUp is a highly acclaimed task automation software and project management tool that is widely utilized by efficient teams globally. It offers a range of automation features that can greatly enhance productivity.
With ClickUp, users can easily set up recurring reminders for meetings, automate task assignments, update statuses, leave comments, and perform other automated actions to streamline workflows.
Let's explore the exceptional qualities that make ClickUp the top-ranked task automation software on our list.
ClickUp Key Features
ClickUp's intelligent automation not only minimizes manual labor but also enables the automation of tasks, allowing resources to be allocated to more creative endeavors. In ClickUp, automation operates based on triggers and conditions.
This robust workflow automation software provides over 50 pre-built automations to facilitate quick implementation. Here are several ways in which you can automate tasks using ClickUp:
Automatically assign individuals to tasks.
Apply a tag to a task when its priority changes.
Change the status of a task when its due date approaches.
Post a comment whenever there is a change in status or assignee.
ClickUp pricing
ClickUp offers diverse pricing plans: Free Forever (personal use), Unlimited ($5/month per member for small teams), Business ($12/month per member for mid-sized teams), and Business Plus ($19/month per member for organizations with multiple teams).
ClickUp user ratings
G2: 4.7/5 (3,300+ reviews)
Capterra: 4.7/5 (2,300+ reviews)
2. Tallyfy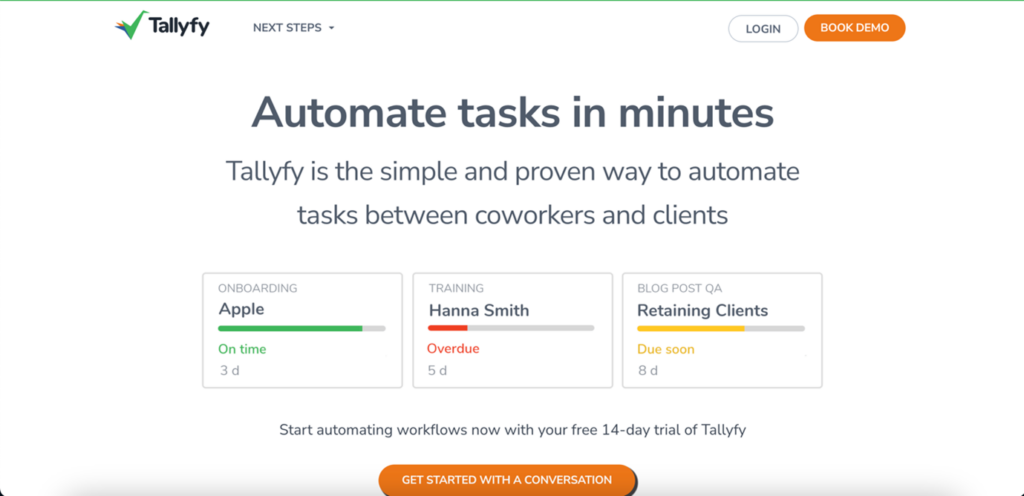 Tallyfy is an excellent automation tool that allows you to automate repetitive tasks without the need for coding or intricate flowcharts. It offers the ability to utilize powerful rules to display or conceal tasks as needed.
Nevertheless, the user dashboard customization options are somewhat restricted. This means you may not have full control over how you can manage your process automation according to your preferences.
Tallyfy key features
Tallyfy provides the following features:
Free task assignment and forms for collecting data.
A "Report issue" functionality to categorize chats into specific segments.
The capability to establish rules to control the visibility of tasks.
Structured form fields for efficient data utilization and organization.
Tallyfy pricing
Tallyfy pricing plans start at $5/user per month.
Tallyfy customer ratings
G2: N/A
Capterra: 4.3 (5+ reviews)
3. Zoho Flow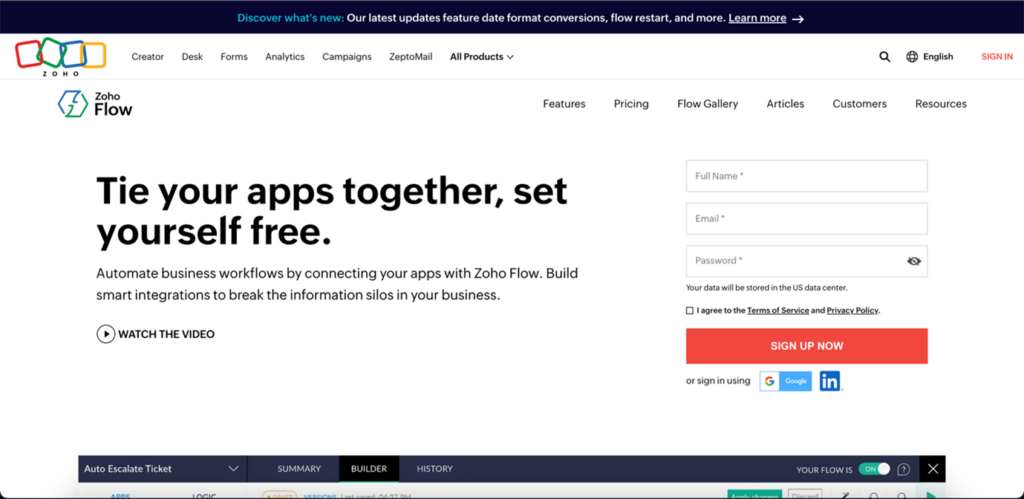 Zoho Flow is a remarkable business process automation tool designed to combat information silos. It enables seamless connectivity between your essential applications and facilitates automation of complex workflows.
However, a drawback of Zoho Flow is its limited integration capabilities beyond the Zoho ecosystem. If you collaborate with multiple applications, you may need to explore alternative automation tools that offer broader integration options.
Zoho Flow key features
Zoho Flow offers several useful features, including:
Logic feature for building contextual workflows.
Deluge, Zoho's scripting language, facilitating smooth data exchange between applications.
A centralized log that records the history of each workflow.
A dashboard that provides a comprehensive view of all business processes and metrics.
Zoho Flow pricing
Zoho Flow offers pricing plans starting at $10 per month.
Zoho Flow customer ratings
G2: 3.9 (10+ reviews)
Capterra: 4.2/5 (5+ reviews)
4. Jira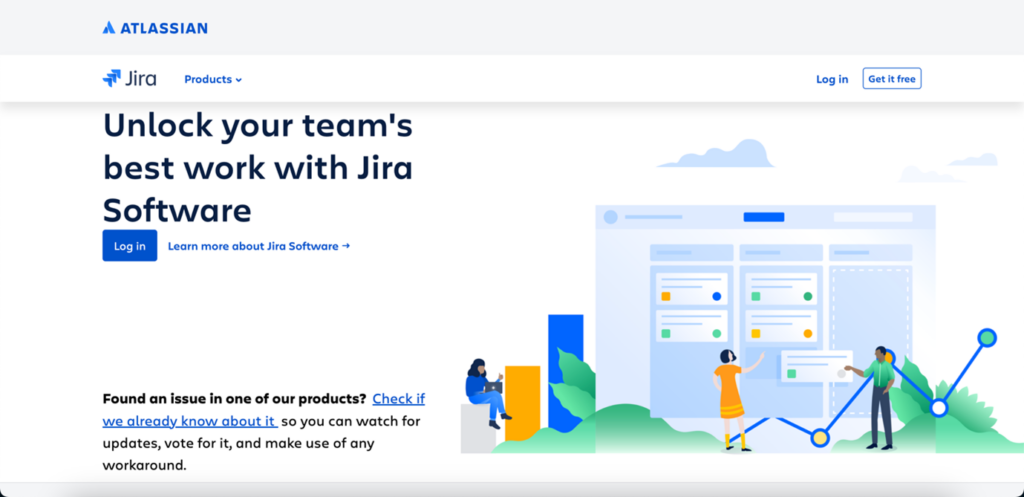 Jira serves as a task automation tool, allowing users to effortlessly create rules with a few clicks. For instance, you can determine actions such as automatically closing subtasks, assigning issues to engineers, and scheduling various tasks.
Nonetheless, a limitation of Jira is that it doesn't allow you to assign multiple users to the same issue, which may require some tasks to be managed manually.
Jira key features
Key features of the automation capabilities in the tool include:
A diverse collection of automation templates to choose from.
Utilization of sandbox and release tracks to effectively handle product changes and updates.
Ability to set automation rules across various projects simultaneously.
Seamless integration with popular software like Slack, GitHub, and more.
Jira pricing
Jira offers a free version for a user base of up to 10 users. Beyond that, their paid plan begins at $7 per user per month.
Jira customer ratings
G2: 4.2 (3,900+ reviews)
Capterra: 4.4 (10,600+ reviews
5. Wrike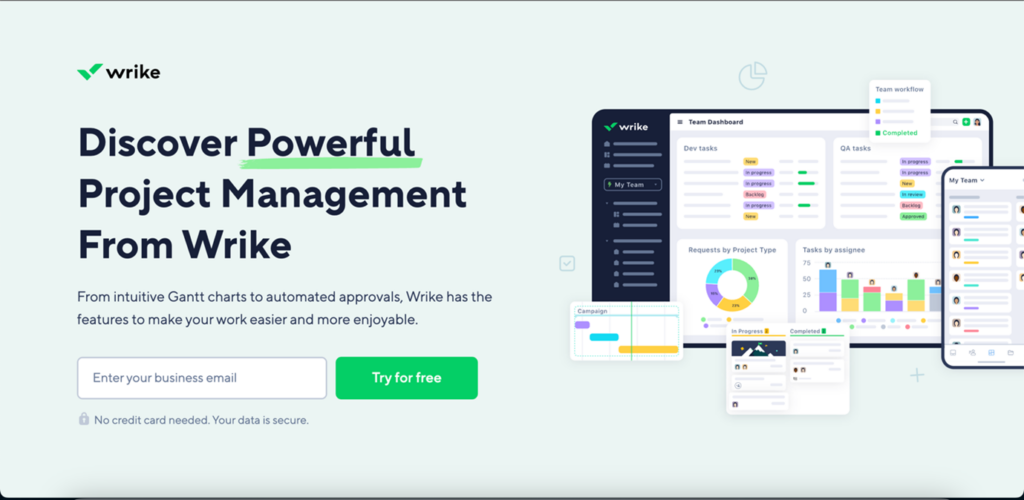 Wrike enables the creation of team-specific automation, simplifying business processes.
The platform provides digital publishing and shared team calendars, ensuring clear due dates and faster feedback cycles.
Wrike key features
Customized dashboards and request forms
Visual proofing and automated approval systems
AI-powered tool automation and project risk prediction
Custom request forms to auto-create and auto-assign tasks
Wrike pricing
Wrike provides a free plan option, and their paid plans begin at $9.80 per user per month.
Wrike customer ratings
G2: 4.2/5 (1,670+ reviews)
Capterra: 4.2/5 (1,670+ reviews)
6. LeapWork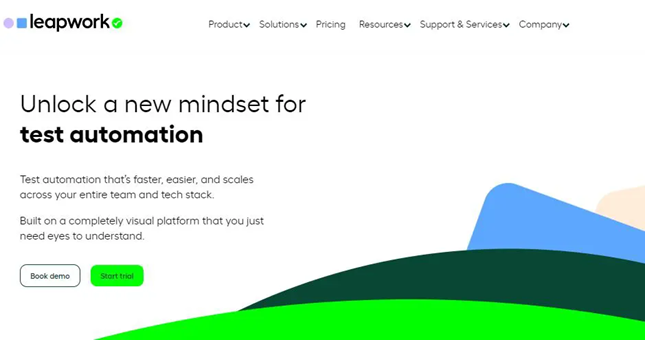 LeapWork is an exceptional robotic process automation software that empowers users to test their automation rules and settings before implementing them in real-world scenarios.
As a no-code tool with an inbuilt process automation language, LeapWork enables users to create automation settings without the need for coding expertise, making it easily scalable.
LeapWork key features
The application offers exceptional desktop and web applications, ensuring seamless automation processes across multiple platforms of your choice.
Experience hyper-visual visualization of scope creeps and bugs, providing a clear overview of potential task impacts.
With integrated workflow and assignee management, you can efficiently manage tasks without the need to switch between different applications.
Additionally, benefit from an advanced calendar assistant to gain a comprehensive overview of all tasks you wish to automate.
LeapWork pricing
The application does not offer pre-made plans; instead, you can contact the company to request a custom quote that aligns with your specific requirements. This allows you to tailor the software to your needs and accommodate your team effectively.
LeapWork customer ratings
G2: 4.4/5 (10+ reviews)
Capterra: 4.4/5 (40+ reviews)
7. ProcessMaker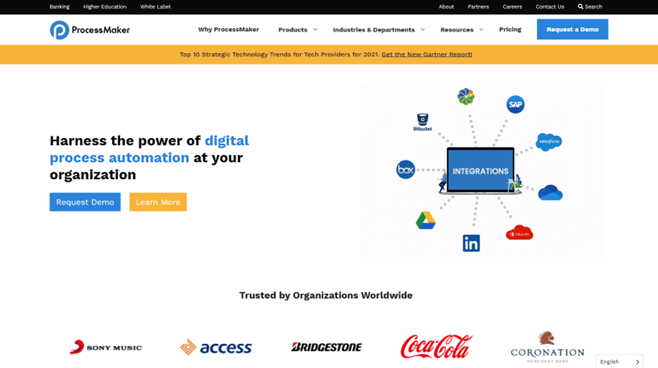 ProcessMaker serves as a powerful business process automation tool, streamlining repetitive tasks such as form and approval-based processes across different departments. It allows seamless integration with third-party systems through APIs and enables the utilization of robotic process automation for enhanced functionality.
ProcessMaker key features
ProcessMaker offers a user-friendly business process modeler that enables simple drag-and-drop functionality for tasks and decision points, making process design intuitive and efficient.
The platform provides comprehensive dashboards for real-time monitoring of processes, allowing users to stay informed and in control.
With no-code forms and display screens, ProcessMaker empowers users to create and customize processes without the need for coding skills, promoting ease of use and flexibility.
Moreover, users can conveniently approve or reject requests directly from their email inbox or Slack, enabling quick and seamless decision-making and collaboration.
ProcessMaker pricing
The standard premium version of this app is priced at $1,495 per month, with annual billing.
ProcessMaker customer ratings
G2: 4.3/5 (240+ reviews)
Capterra: 4.5/5 (170+ reviews)
8. Pipefy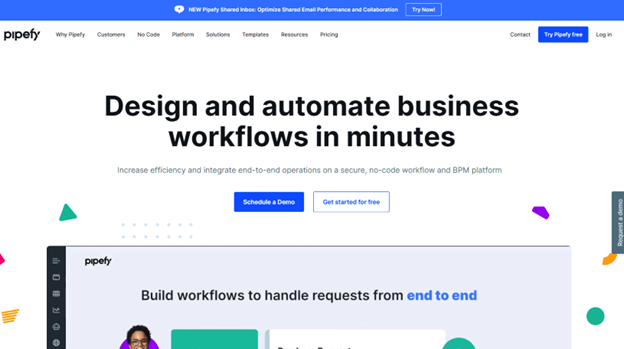 Automate your workflow or business processes effortlessly with Pipefy – no coding skills required. Enjoy simplified request management, streamlined deployment of digital workflows, and error reduction through the automation of manual tasks.
Pipefy key features
Streamline communication by creating custom integrations between chat apps and ERPs (Enterprise Resource Planning systems).
Optimize information access and management through service portals that centralize documents, policies, and request forms.
Enhance communication efficiency with automated emails using customizable templates.
Gain valuable insights into business processes with advanced reports that filter and combine information, providing comprehensive analytics and data visualization.
Pipefy pricing
They offer a free plan with basic features, which allows users to get started with the platform without any cost.
For those looking for more advanced functionality and capabilities, Pipefy offers paid plans starting at $22 per user per month.
Pipefy customer ratings
G2: 4.6/5 (170+ reviews)
Capterra: 4.6/5 (260+ reviews)
9. Zapier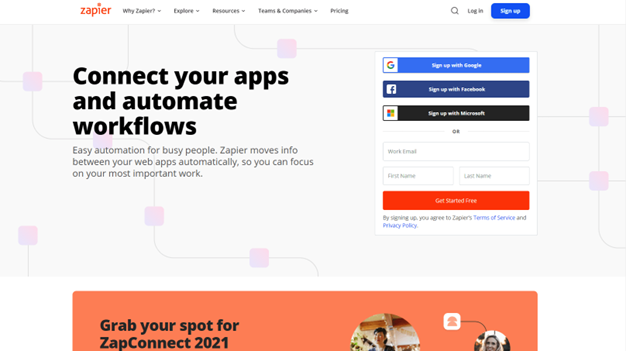 Zapier is an exclusive automation platform known for its versatility and productivity enhancement. It allows users to create workflows that connect different apps, enabling seamless automation. The tool operates based on the "if/then" logic, where predefined conditions trigger reactions.
For instance, when a new lead is received through Facebook, Zapier can automate a series of actions such as sending emails to team members, adding the lead's email address to Mailchimp, and sending personalized emails.
The key advantage of Zapier is its no-code approach, making it accessible to anyone without the need for programming skills.
Zapier key features
Streamline task creation and communication through automated task creation and custom notifications.
Automatically generate tasks from notes and documents when new meetings are scheduled.
Organize and maintain a clean inbox using automation.
Create folders and files automatically for new projects.
Integrate tasks from project management apps into your personal to-do list app.
Zapier pricing
Zapier offers a free plan with limited integrations available. However, to fully leverage Zapier's capabilities, users can opt for various paid plans. The top-tier plan designed for enterprises starts at $599 per month and includes 100,000 tasks.
Zapier customer ratings
G2: 4.5/5 (740+ reviews)
Capterra: 4.7/5 (1,800+ reviews)
10. RoboTask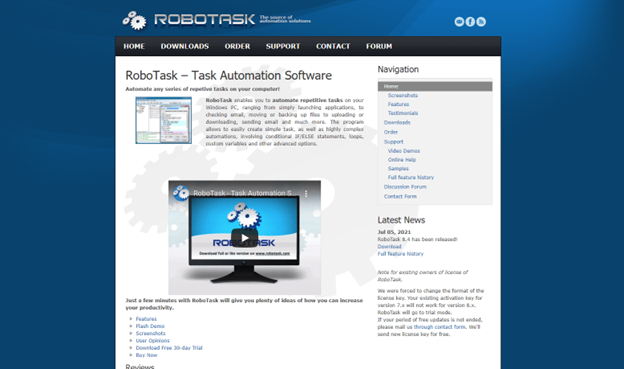 RoboTask is a dedicated desktop automation tool designed exclusively for Windows PC, filling the gap where Windows lacks a built-in macro recorder. It offers a macro recorder that captures mouse and keyboard actions, enabling users to automate tasks efficiently.
One potential drawback is that it may take some time to adapt to its intimidating and outdated interface.
RoboTask key features
Automate the launching of applications and opening of documents without manual intervention.
Efficiently manage automatic backups to safeguard important data.
Seamlessly send letters and files via email, streamlining communication processes.
Function as an alarm clock, providing timely reminders and scheduling tasks for enhanced productivity.
RoboTask pricing
The cost of a RoboTask license is $150, which means that to use the full version of RoboTask and unlock all its features, users need to purchase a license for $150.
RoboTask customer ratings             
G2: N/A
Capterra: N/A
Conclusion
In our daily lives, we often find ourselves bogged down by repetitive tasks. These tasks can consume a significant amount of time, hindering our overall productivity.
To truly boost productivity, it is essential to assess how we spend our time and identify those repetitive tasks that might be holding us back.
By opting for one of the top task automation software solutions, you can reclaim that lost time and focus on more meaningful tasks that drive progress and yield better results.
We sincerely hope that this article has shed light on the benefits of task automation software and how it can empower you to achieve more by optimizing your workflow. So, why not seize the opportunity and make a positive impact on your productivity today?