Financial management, as the name implies, is the management of money. The phrase is usually applied to businesses that require appropriate and precise financial management in order to succeed and expand in their respective sectors. 
Why Financial Management Software?
Financial management software is used by businesses to streamline and automate their financial procedures, improve accuracy, and increase overall efficiency. These software solutions include budgeting, forecasting, financial reporting, spending management, invoicing, and other features.  
Companies that use the best financial management software may have better control over their money, make more informed decisions, track financial performance, and maintain regulatory compliance. Furthermore, these software solutions provide organizations with real-time access into financial data, allowing them to make timely modifications and optimize their financial strategy. 
List of 14 Financial Management Software Best for 2023
#1) Payhawk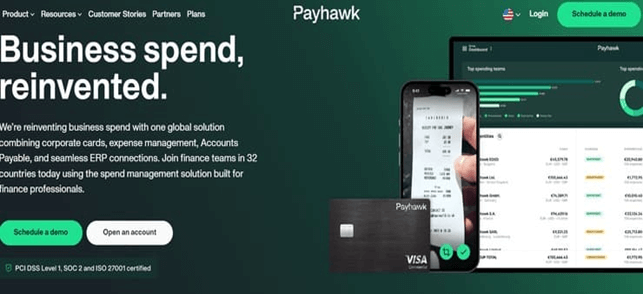 Payhawk is an advanced expense management app that automates expense reporting and streamlines employee spend management. With real-time expense tracking and invoice receipt scanning, managers can effortlessly monitor expenses.  
The app eliminates the need for manual payment proofs, ensuring a smooth reimbursement process. It also enables employees to avoid personal spending during business trips by providing instant physical and virtual cards with customizable spending limits. 
Features: 
Card Spending Tracker

 

Multi-level Approval

 

Reconciliation Summary

 

Receipt Scanner

 

Receipt Management

 

Multiple Reporting Currency

 

Spend Control

 

Reimbursement Management

 
Verdict: Payhawk offers its customers the best financial software to integrate with ERPs such as NetSuite with ease. The corporate card management, expense management and account payable features all integrated into a single platform make it one of the best financial management software to use in 2023. 
Pricing: The comprehensive Spend plan is priced at $299 per month, while the Premium Cards plan is available at $199 per month. Additionally, there is an option for a tailored enterprise suite plan based on specific requirements and needs. 
#2) Oracle – NetSuite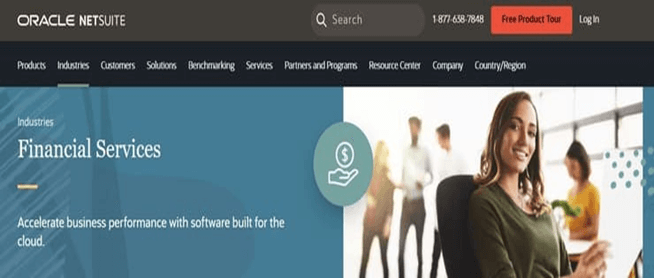 Oracle NetSuite is a cloud-based enterprise resource planning (ERP) software system that assists organizations in managing core activities such as finance, inventories, supply chain, order management, and customer relationship management (CRM).  
It provides enterprises with a uniform platform for streamlining procedures, improving insight into operations, and making data-driven choices. It is built to meet the demands of organizations of all sizes and sectors, with scalability, flexibility, and comprehensive capabilities. 
Features: 
Comprehensive finance and accounting module 

 

CRM capabilities

 

Revenue management functionality 

 

Human capital management tools 

 

Range of pre-built and customizable reports

 
Verdict: Out of all the software's available, we believe Oracle NetSuite is the best one to use if you want full clarity over integrated finances. It effectively supports compliance requirements, making it a reliable solution for businesses.
Pricing: Contact NetSuite through their website for their quote on the price. 
#3) Sage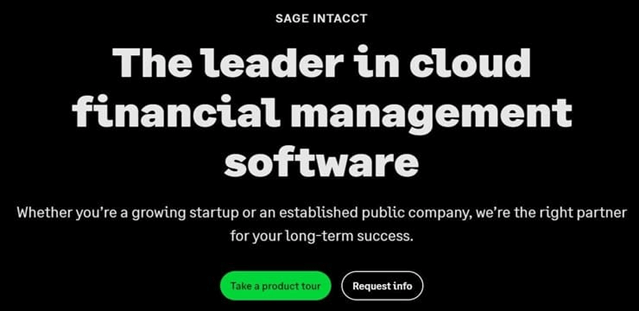 Sage Intacct is widely recognized as one of the most popular cloud-based financial management solutions available today. It allows individuals and corporations to get complete visibility and control over their financial affairs. This software improves accounting and finance workflows and automates complex billing procedures, making it a solid solution for optimizing financial operations. 
Features: 
Predictive and dimensional analytics for insightful data analysis 

 

Automated revenue and billing processes

 

Efficient cash management capabilities

 

Streamlined order management functionality

 

Robust general ledger for accurate financial tracking

 
Verdict: Sage Intacct is the best financial software to use if you want to automate long and difficult tasks associated with finance. It's easy integration with other software make it a good choice for business use.
Price: Quote based 
#4) Moneydance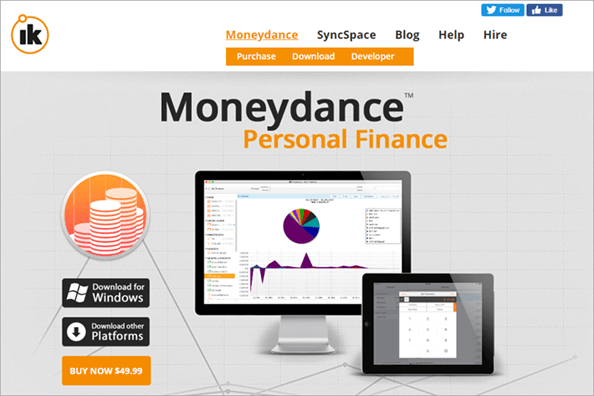 Moneydance is a user-friendly personal finance application designed to simplify financial management, budgeting, and investment processes. It provides a convenient and efficient way to handle your finances, ensuring productivity and ease in tracking and optimizing your financial activities. 
Features: 
Seamless integration with numerous financial institutions for automated payments 

 

Generates detailed financial reports summarizing your cash flow 

 

Utilizes visual graphs for enhanced data representation 

 

It enables setting bill payment reminders to avoid late fees

 

Provides valuable insights by displaying up-to-date information on stocks, bonds, mutual funds, and other investment options, facilitating informed decision-making.

 
Verdict: 
We recommend Moneydance for people looking for a budgeting software for their own use 
Pricing: Price starts from $49.99 
#5) BankTree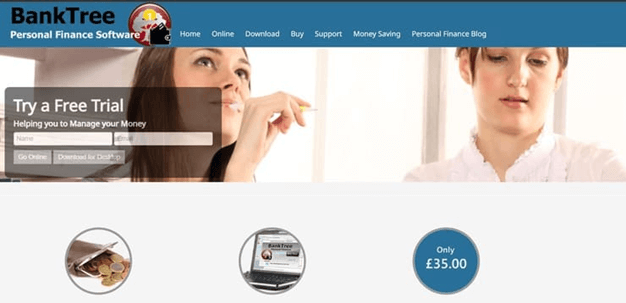 BankTree is an excellent software solution that offers enhanced visibility into your bank accounts and investment portfolio. It is the best software for managing multiple type of bank accounts . With this software, you can easily monitor and track your savings, checking, and credit card accounts. 
Additionally, it provides comprehensive tools to seamlessly manage your entire investment portfolio, ensuring efficient financial management. 
Features: 
Efficient account management capabilities

 

The ability to download real-time stock prices

 

Reports that provide valuable and actionable insights

 

A convenient mobile app for scanning and managing receipts

 
Verdict: BankTree is available as an online, desktop, and mobile application, offering users the flexibility to track their revenue, expenses, and investments anytime and anywhere. 
With its comprehensive reporting capabilities, the software provides interactive charts that present valuable insights, empowering users to make informed financial decisions. 
Pricing: 40$  
#6) Bonsai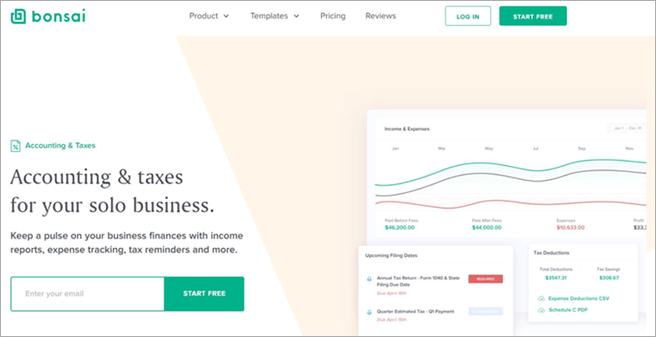 Bonsai's financial management system is specifically designed for users seeking effective expense tracking and tax management. With features such as automated invoicing, profit and loss monitoring, tax reminders, and income tracking, the software provides comprehensive tools for real-time financial information tracking.  
This all-in-one solution enables users to efficiently manage their finances, stay organized, and ensure compliance with tax obligations. 
Features: 
Customizable templates

 

Automated expense management

 
Verdict: We believe that bonsai is best for freelancers due to its comprehensive features for tax management and expense tracking, available both through cloud and on-premise. 
Pricing:       
Starter: $24/month

 

Professional: $39/mont

h

 

Business: $79/month

 

Free trial is available

 
#7) Mint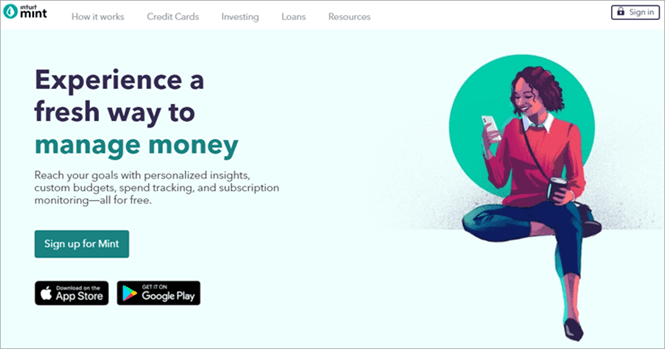 Mint, the highly popular and free personal finance app, is known for its budget-friendly nature and its ability to provide valuable cash flow insights. This app serves as a helpful tool in improving spending habits, sending bill payment reminders, and offering personalized credit flow insights, empowering users to make smarter decisions when it comes to their spending and saving. 
Features: 
Personalized budgeting tailored to your income and expenses, enabling you to effectively manage your finances.

 

Tracks your expenditures, allowing you to identify areas where you can reduce unnecessary spending.

 

The app monitors your credit flow, generates insightful reports, and offers suggestions for improvements. 

 

With robust encryption, Mint ensures the security of your data.

 
Verdict: 
When it comes to free financial management software, Mint's positive reviews alongside its excessive features make it a popular choice among users.  
Price: Free 
#8) Honeydue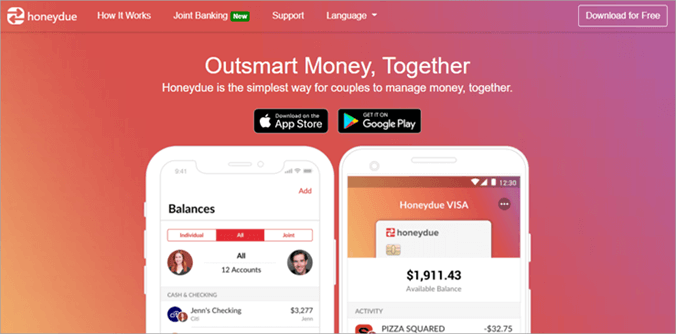 Honeydue is best for couples/partners who wish to share and manage their expenses together. It links to loans and investments, as well as tracks you and your partner's spending by linking to your bank accounts and credit cards. You and your partner can choose what accounts you want to share with the other. 
Features: 
Makes budgeting with a partner easier

 

Links to more than 20,000 financial institutions

 

Free to use

 

Offers free banking option

 

Chat capability
Verdict: Honeydue is recommended to those individuals who wish to share expenses with their partner and want an app that tracks their expenses for free. However, it does not allow users to set any financial goals. 
Price: Free
#9) Mvelopes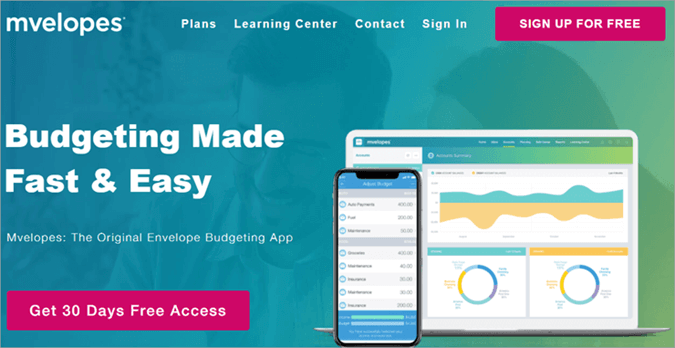 Mvelopes is software which helps you manage your budget, which in turn helps you with getting rid of debts, saving more and spending in a controlled manner. 
Features: 
Quick budget planning

 

Allows you to store money in different envelopes, each having a different purpose.

 
Verdict: This software is good if you're looking to budget your expenses. However, manual data entry can sometimes make it difficult and tedious for the users to use this software. 
Price: There is a 30-day free trial, then you must pay according to the following price plan: 
Basic- $5.97 per month

 

Premier- $9.97 per month

 

Plus- $19.97 per month

 
#10) Personal Capital (Empower)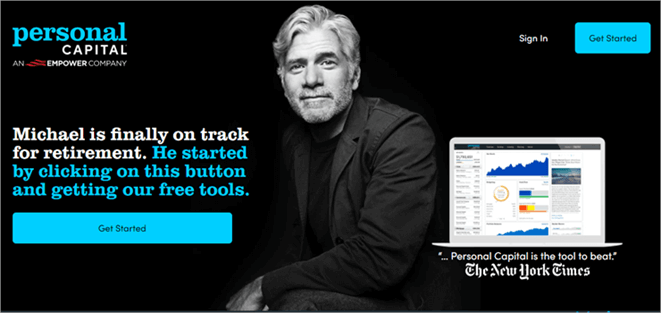 Personal Capital, now known as Empower, is a financial management software that specializes in helping users effectively manage their wealth, cash flow, and budgeting. It provides personalized strategies and expert guidance to assist users in planning for their retirement.  
With the aid of this software, individuals can confidently navigate their financial journey and make informed decisions about their retirement goals. 
Features: 
Expert guidance for future planning strategies

 

Assists in minimizing tax expenses and can be accessed conveniently through both the online platform and mobile application

 

The software enables users to plan their savings and expenses according to their net worth and liabilities

 
Verdict: Empower is highly recommended to investors with a big budget who need advice for strategic financial management and planning 
Price: Quote-based 
#11) FutureAdvisor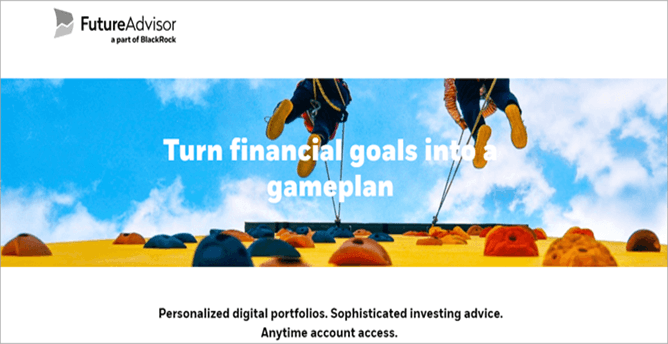 Future Advisor is a financial management system that excels in guiding users in creating and managing portfolios. This software provides expert advice to make informed investment decisions and facilitates the creation of digital portfolios. With the convenience of anytime access, users can effortlessly monitor and manage their accounts.  
Features: 
Free portfolio analysis and advice when you create an account

 

Access to daily tax-loss harvesting and automatic 

portfolio rebalancing

 

Management service

 

You can access a team of human advisors through phone, online chat or email

 
Verdict: According to users, FutureAdvisor provides an impressive set of free features, although the subsequent fees charged are perceived as high. Despite this, it remains a highly recommended financial management software for its overall capabilities and functionality. 
Price: Quote-based 
#12) Money Dashboard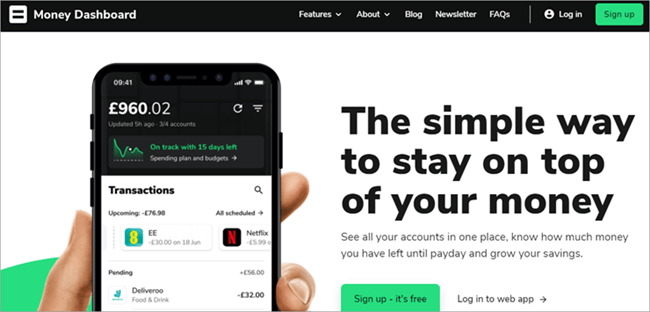 Money Dashboard is a web-based financial management software that excels in assisting users with planned expenditure and savings. It effectively manages multiple accounts, providing insights on the net amount of money available after bill payments, thereby encouraging savings.  
With its informative features, users can stay informed about their financial status and make informed decisions regarding expenditure and savings goals. 
Features: 
Allows you to keep track of your spending

 

Seamless integration with banks to allow easy transfer of money to your account

 

Keep an eye on all your bills and subscriptions

 

Continuous notifications from the software regarding how much money is left allows you to plan your expenditures

 
Verdict: 
Money Dashboard is an app best suited for android/ios devices. It does not work on Windows/MAC and is not useful to large firms 
Price: Quote-based 
#13) PocketGuard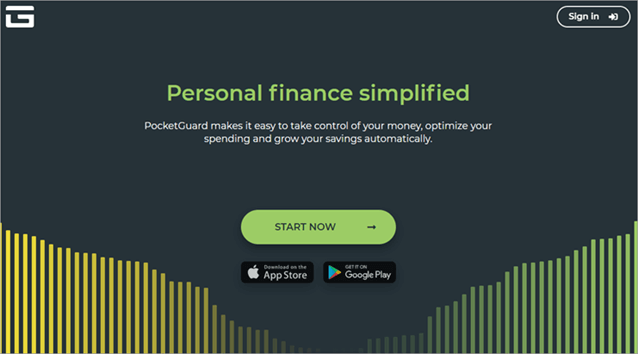 PocketGuard is an ideal choice for individuals seeking to reduce excess expenditure and increase their savings. This financial management app simplifies your finances by empowering you to take control of your savings, leveraging the autosave feature.  
It provides a clear overview of your expenses across different categories, enabling you to identify areas where you can cut back and save more effectively. 
Features: 
PocketGuard offers a free version with the option to upgrade to a premium version for additional services. 

 

The "In My Pocket" feature provides visibility into your available funds for free spending, facilitating budgeting efforts. 

 

The Spending Limits tool helps you stay within your budget by sending alerts when you approach your set limits. 

 

With PocketGuard Plus, you gain the ability to track cash transactions, setting it apart from other budgeting apps that primarily focus on tracking transactions through financial institutions.

 
Verdict: We believe PocketGuard to be the best fit for those who plan on maximizing their savings. However, people outside of USA or Canada can not use this app as it is not available globally. It is best for personal use and lacks features for those looking to invest. 
Price: PocketGuard is free. The Plus version is paid which costs $4.99 per month or $34.99 per year. 
#14) EveryDollar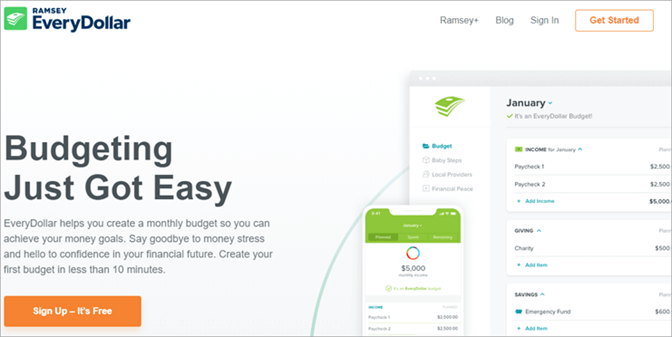 EveryDollar is a budgeting app designed to assist users in effectively monitoring their spending habits to enhance savings. By creating a budget plan and gaining insights into cash flow, individuals can track their expenses and devise strategies for saving more. EveryDollar serves as a valuable tool in promoting financial awareness and helping users achieve their savings goals. 
Features: 
EveryDollar offers flexible templates for tailoring your monthly budget, providing a personalized planning experience. 

 

With synchronization capabilities, you can conveniently access the application from any device, regardless of your location. 

 

The app generates detailed reports, offering a comprehensive breakdown of every dollar you spend, ensuring transparency and empowering you to make informed financial decisions.

 
Verdict: EveryDollar is a good financial management software which we found very easy to use.
Price: The app is free to use but a paid version for 99$ is also available.
Conclusion
The financial management software options mentioned above provide a range of features and functionalities to cater to diverse needs.  
Whether you're a freelancer seeking expense tracking and tax management with Bonsai, an individual looking for comprehensive personal finance management with Mint, or a retiree planning for the future with the assistance of experts through FutureAdvisor, these software solutions offer valuable tools and insights.   
Additionally, Money Dashboard, PocketGuard, and EveryDollar focus on helping users manage their budgets, cut excess spending, and increase savings.